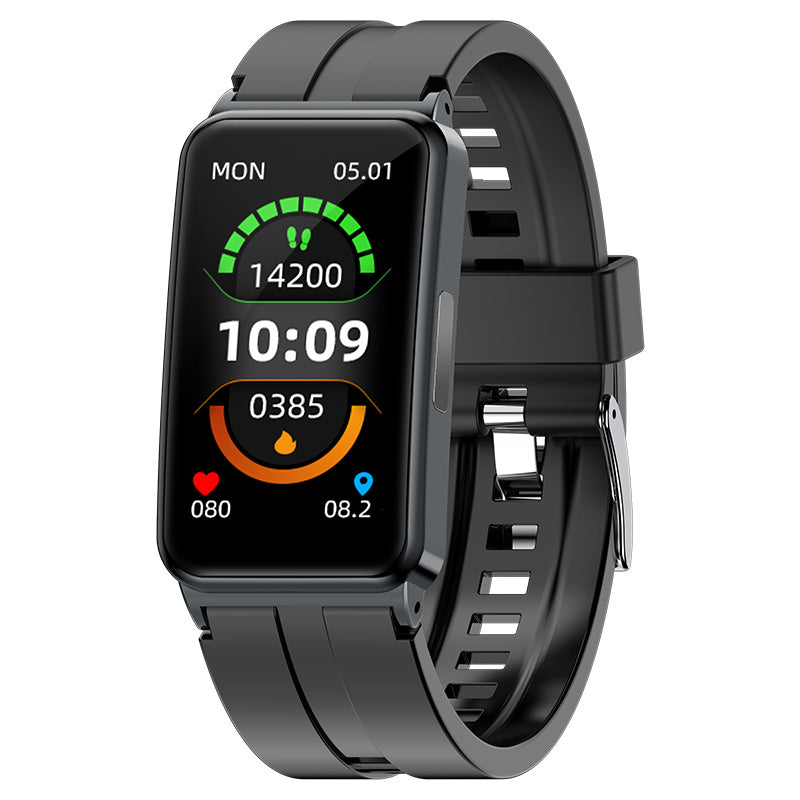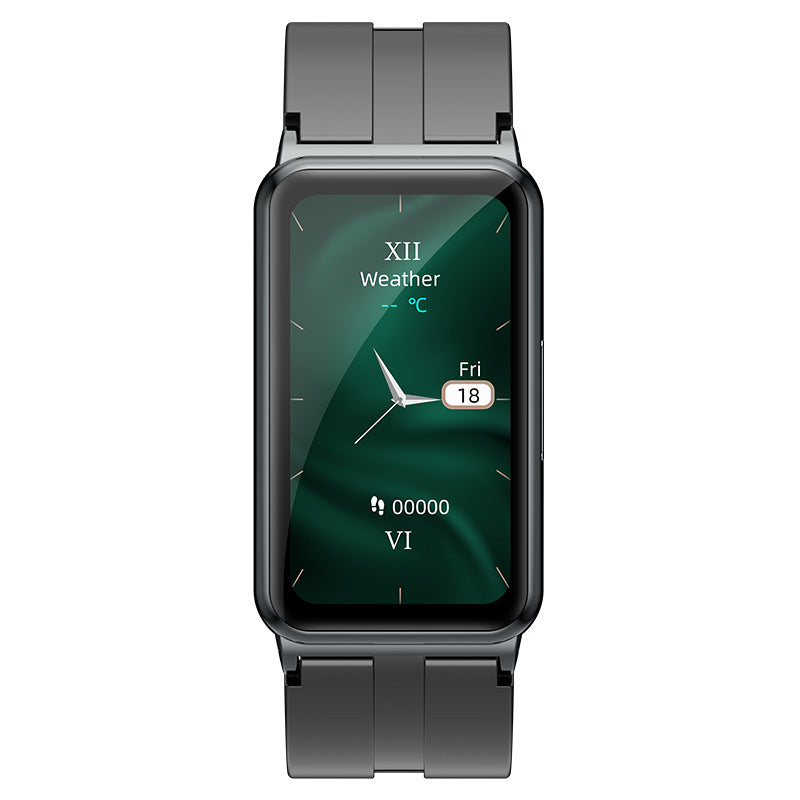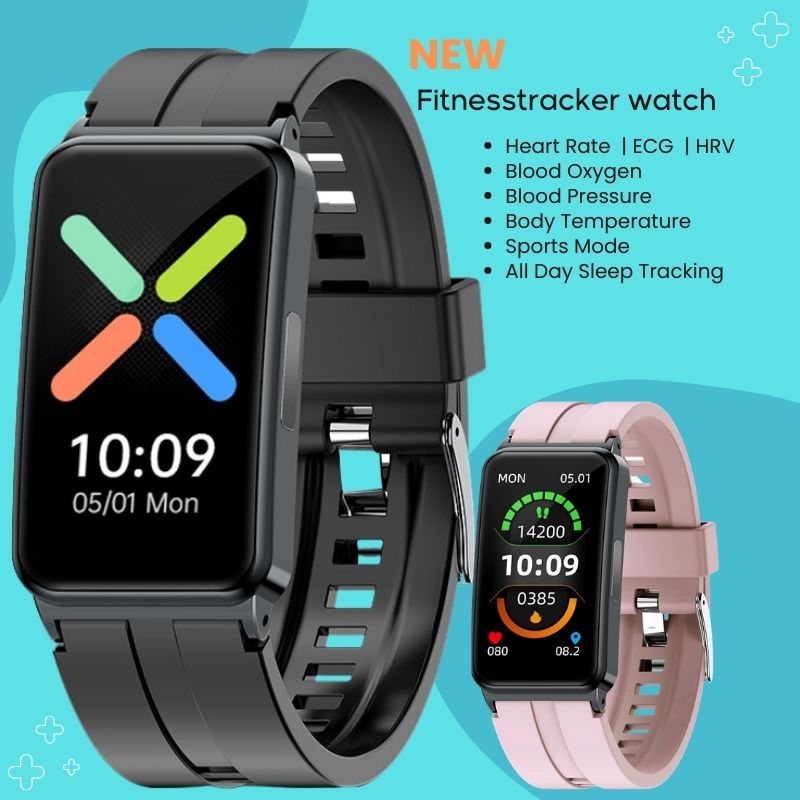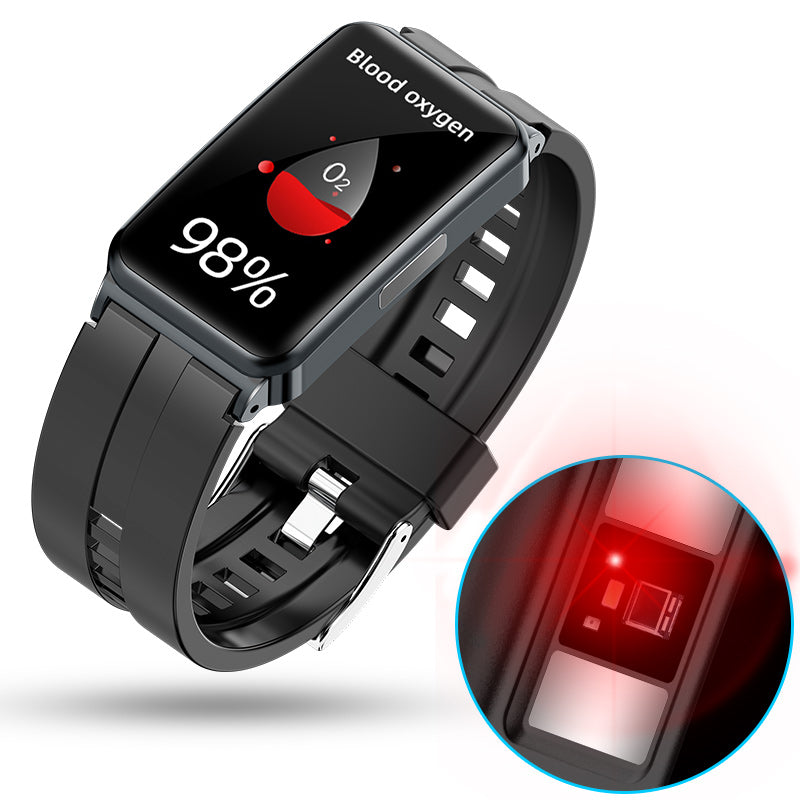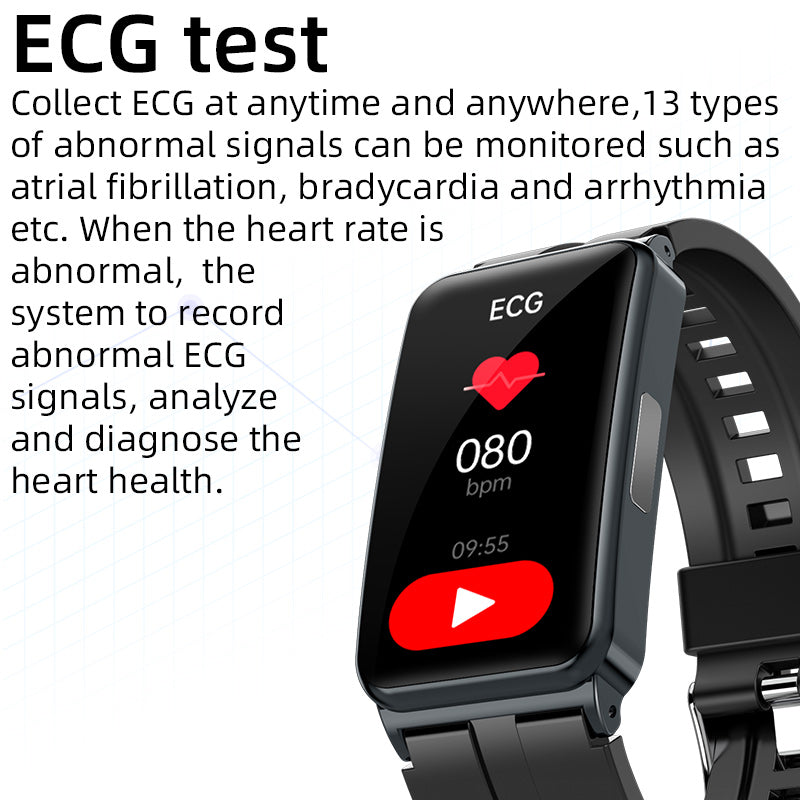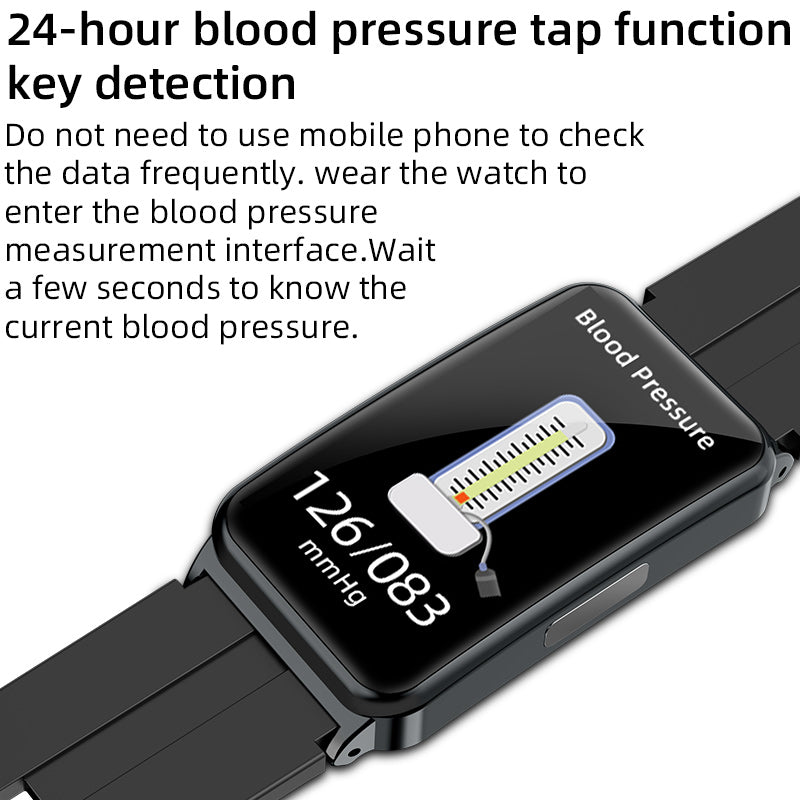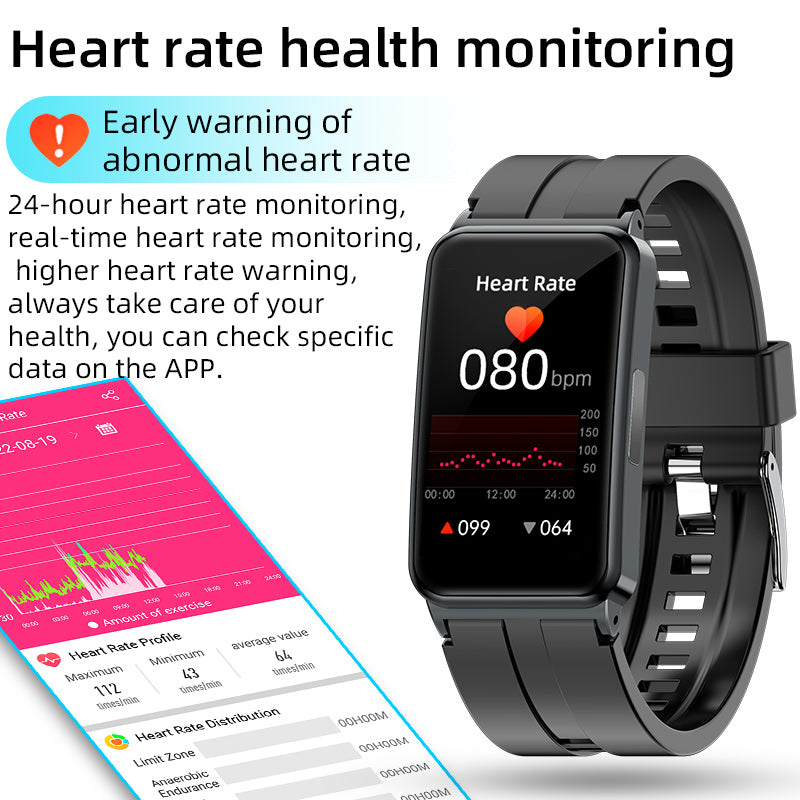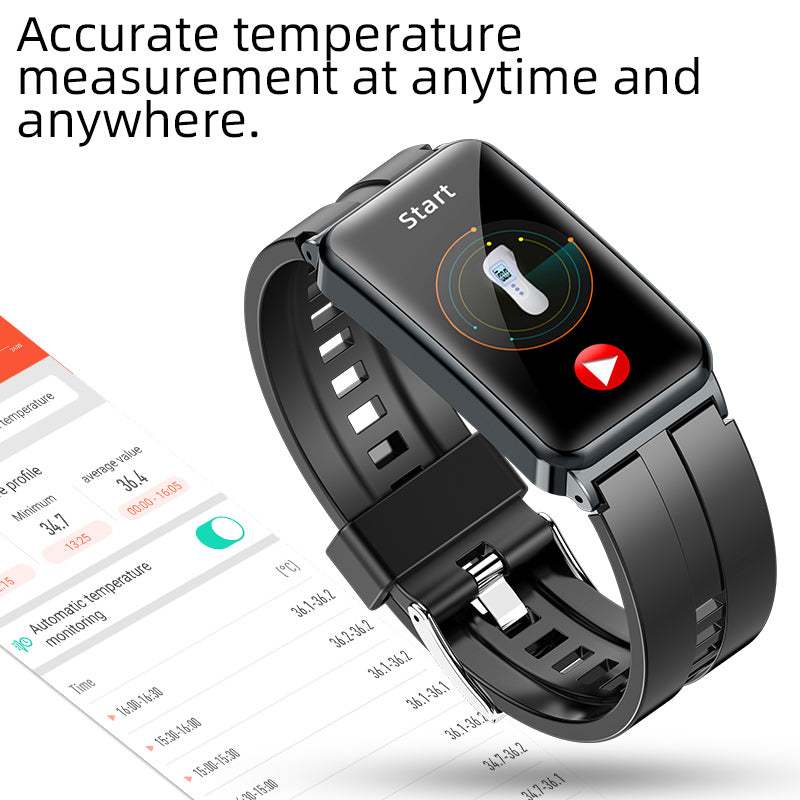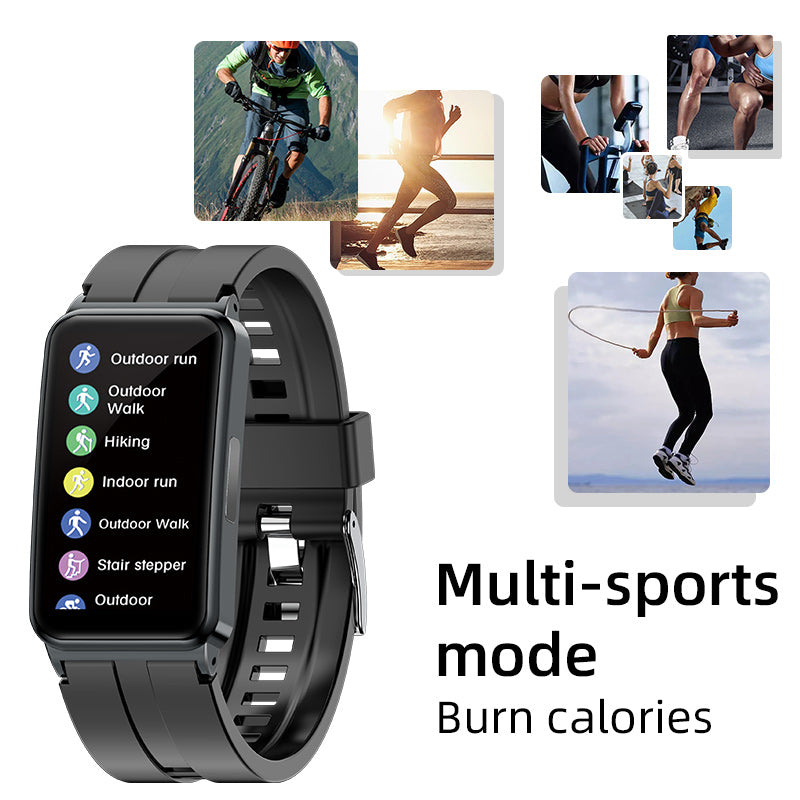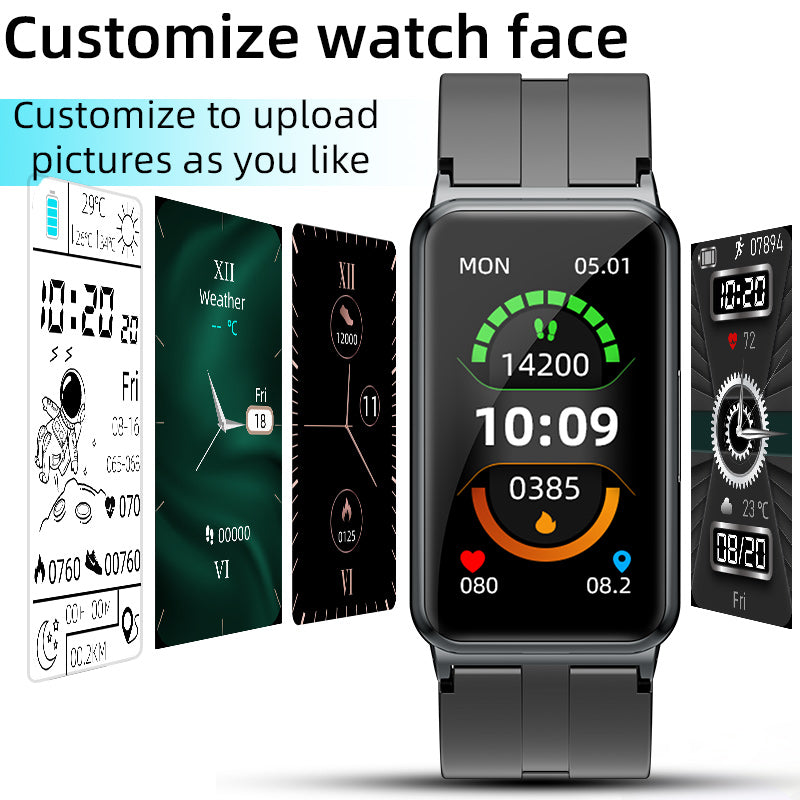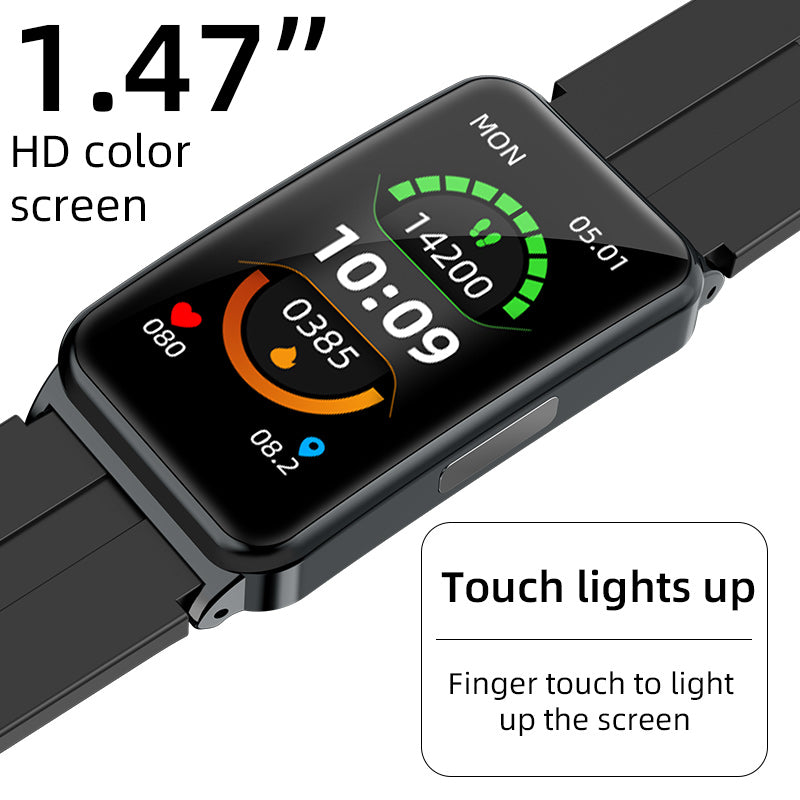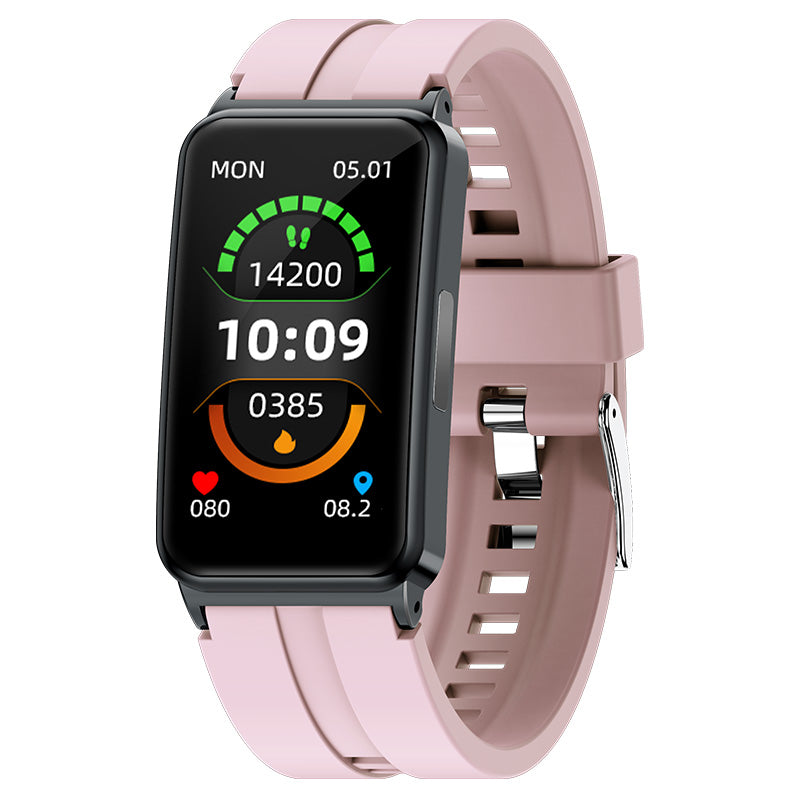 Fitaos Body Temperature ECG Blood Oxygen Heart rate Blood Pressure Monitoring Fitness Tracker Watch VKEP01
A NEW TREND ON THE WRIST⌚

Main Functions
ECG Recorder Funtion - Monitoring and Analysis
It collects ECG signals anytime and anywhere and can monitor 13 abnormal signals such as atrial fibrillation, bradycardia and arrhythmia ... When there is an abnormal heart rate, the system records abnormal ECG signals, analyzes and diagnoses heart health and makes timely alerts.
The wrist ECG detection function is smart and portable and can be measured at any time. The ECG sensor acquires the ECG waveform (ECG) of the heart by superconducting powder metallurgy according to the I-lead standard. The detection principle is the same as that of the hospital machine. Abnormalities are detected in time to avoid sudden risks.
PPG Heart Rate Health Monitoring
Early warning of abnormal heart rate. 24-hour real-time heart rate monitoring, more accurate heart rate warning, always take care of your health. You can view specific data on the H-band app.
Heart rate variability (HRV) refers to the variation in the heartbeat cycle. This is an important indicator of the ability of neural activity to regulate the cardiovascular system. It is highly associated with several cardiovascular diseases.
(See the report in H-band APP)
One-click Blood Pressure Measurement - Real Time Monitoring and Accurate Measurement
Do not need to use mobile phone to check the data frequently. Wear the watch to enter the blood pressure measurement interface. Wait a few seconds to know the current blood pressure.
Infrared Light For Measure Blood Oxygen

- Hypoxic Shock Wake
The main problem with snoring during sleep with short-term apnea is lack of oxygen. This can also lead to other hypoxic complications, severe asphyxia or heart failure. The smart bracelet will automatically and continuously monitor the sleeper's blood oxygen level at night (0-7am) and vibrate when there is a risk of low oxygen to alert the sleeper to adjust their sleep position or wake up to fullness, which can effectively ensure safety.
Take

Accurate Temperature Measurements

Anytime, Anywhere.
High Body Temperature Warning Function
Precise measurement with high accuracy, historical temperature data available, and real-time synchronization of temperature profile data to Hband APP throughout the day.

Sleep Monitoring and analysis
Monitor sleep quality, monitor heart rate, blood oxygen and breathing quality in real time throughout the process, accurately determine sleep conditions (sleep time, deep sleep), and score sleep quality based on big data analysis to help record complete sleep information and get a good night's sleep.
Adopts a large HD screen, which makes the data display more natural and clear and realistic. And the screen is full touchable.
IP67 Waterproof & Dustproof
IP67 waterproof standard, effective protection against sweat and rain, no more worries about water ingress in daily use (but wipe off the water to keep the device dry after washing hands with a spray of cold water).
Helps you understand your menstrual cycle, record menstrual periods, safe periods, and risk periods, and care for women's health.
Bluetooth Music on Your Watch - Rhythm as you like
When the watch is successfully connected to your phone, you can operate the music play, pause and switch previous/next song on your device to enjoy the beautiful sound conveniently and quickly.
Burn your calories
Built-in high-precision sensors accurately record your daily walking steps, miles and calories, heart rate when exercising, and includes multiple exercise modes, such as running and cycling.
Message/Caller Alert Function
Never miss an important message, no matter when or where you are
Upload your favorite pictures to make cool dials and take pictures of every exciting moment
Description: This product comes with a charger

Please note:
1. The product is not a medical device. Message content is for reference only, and should not be used for clinical diagnosis.
2. Not applicable to users under age 18, or those diagnosed with other types of arrhythmia. Please read the instructions thoroughly.
3. This app is not a medical device. Data obtained during the use of this app is for reference only, and should not be used for medical research, diagnostic, or treatment purposes. Please read the Instructions thoroughly.
4. This product can be worn during shallow water activities, such as swimming in pools and shallow waters along the coast, but not for long periods of time in the water. It should not work in hot showers, hot springs, or saunas (steam rooms), nor during platform dives, high-pressure rinsing, or other activities that involve high water pressure, high temperatures, high levels of humidity, or fast-flowing water. It is not suitable for scuba dives, or technical dives. Rinse off the watch with fresh water after using it in ocean water. Leather and metal straps are not designed to withstand swimming or sweat. It is recommended that you wear other types of straps, in such scenarios. Water resistance is not permanent, and protection may decrease with daily wear and tear.
Love it
Watch has features I wanted like continuous blood oxygen level monitoring, sleep tracking, etc. it has a lot of other features as well. Seems to work just perfectly!
Love this smart watch
All the features you would expect to find on a more expensive watch like Apple or Garmin or Fitbit at fraction of the cost. Love the Hband app for more precise readings. Would certainly recommend this product. John M.
EARSCOME BCEP01 HRV GLU Monitoring Smart Watch
Fast shipping, delivery very fast, received before the deadline. Beautiful watch
EARSCOME BCEP01 HRV GLU Monitoring Smart Watch
Finally received the watch I need, the things are very good, the price is good, thank you, shopkeeper! The attitude of shopkeeper is very professional and enthusiastic, there are questions to answer, reply quickly, I asked a lot of questions, and he did not feel annoyed, and answered me seriously. Besides, the watch is exactly what I need. The package was complete when I received it. To my surprise, after opening it, the watch is even better than I imagined! Have to give them credit. I'll come again next time I need it!
EARSCOME BCEP01 HRV GLU Monitoring Smart Watch
The quality of the watch is very well made, completely exceeding expectations. Before every time we measure blood sugar, we need to stick a needle and wear it. This watch is very convenient to measure, and it directly measures the results. The measurement process is relatively fast, and it can view the detailed report analysis on the APP, which is very practical