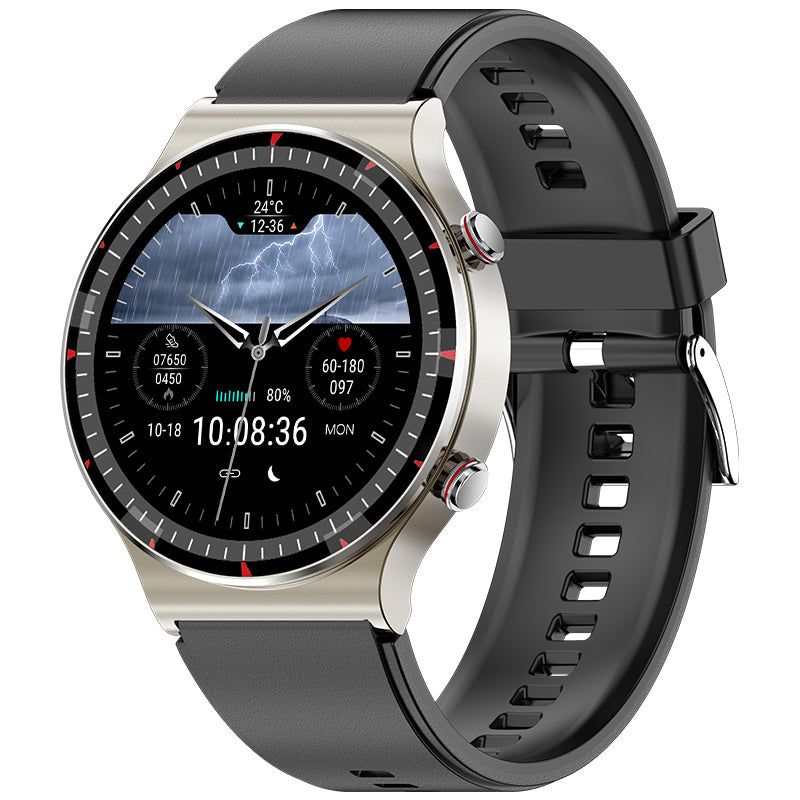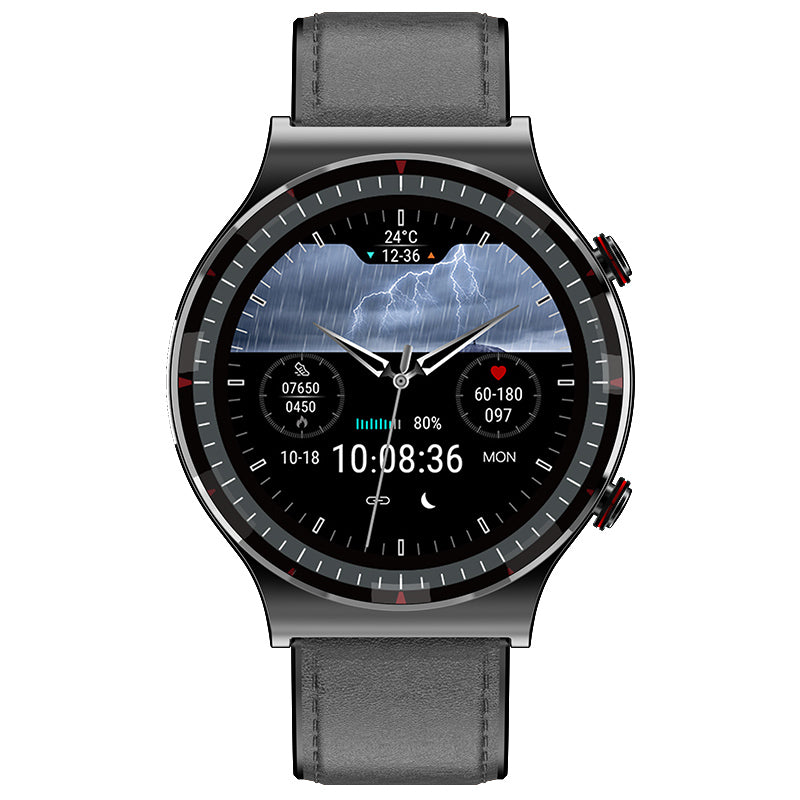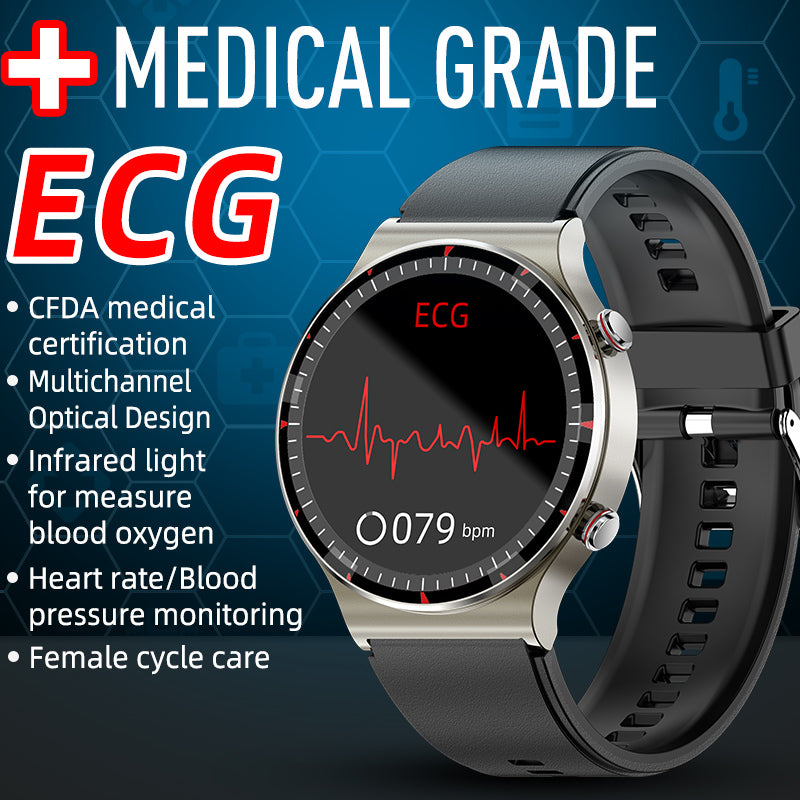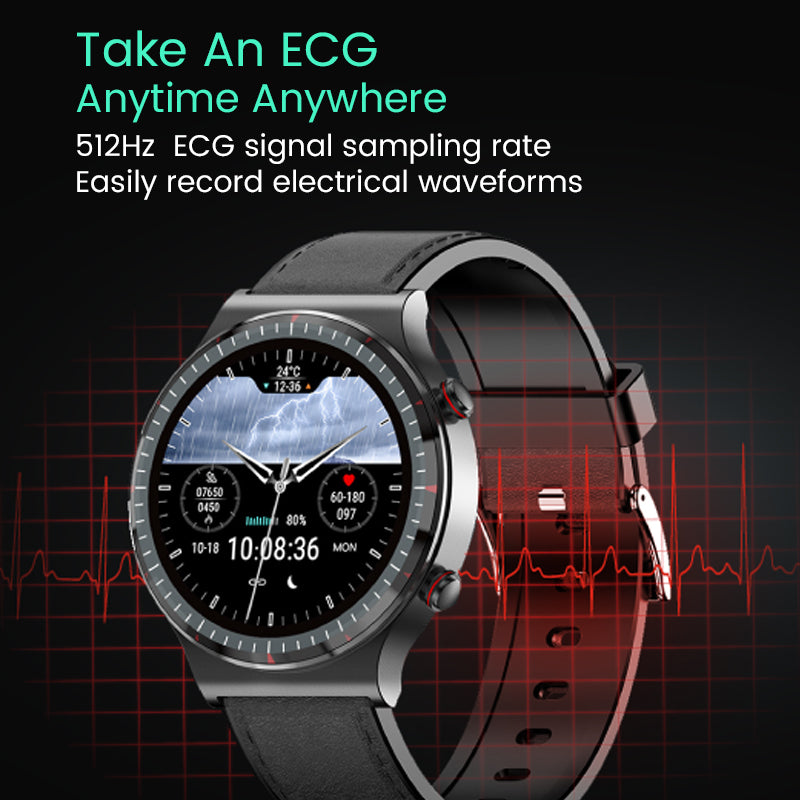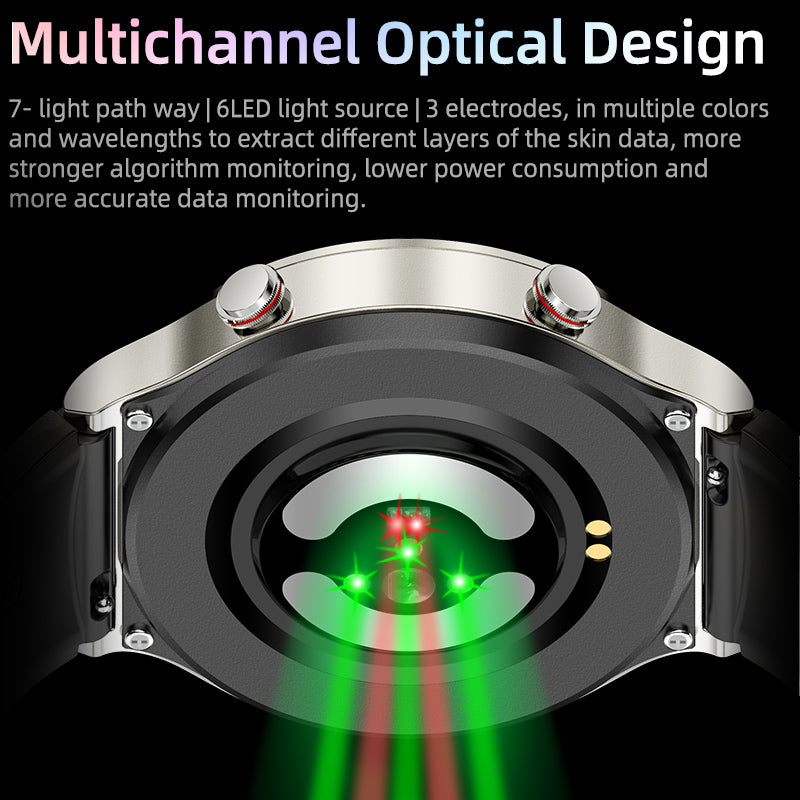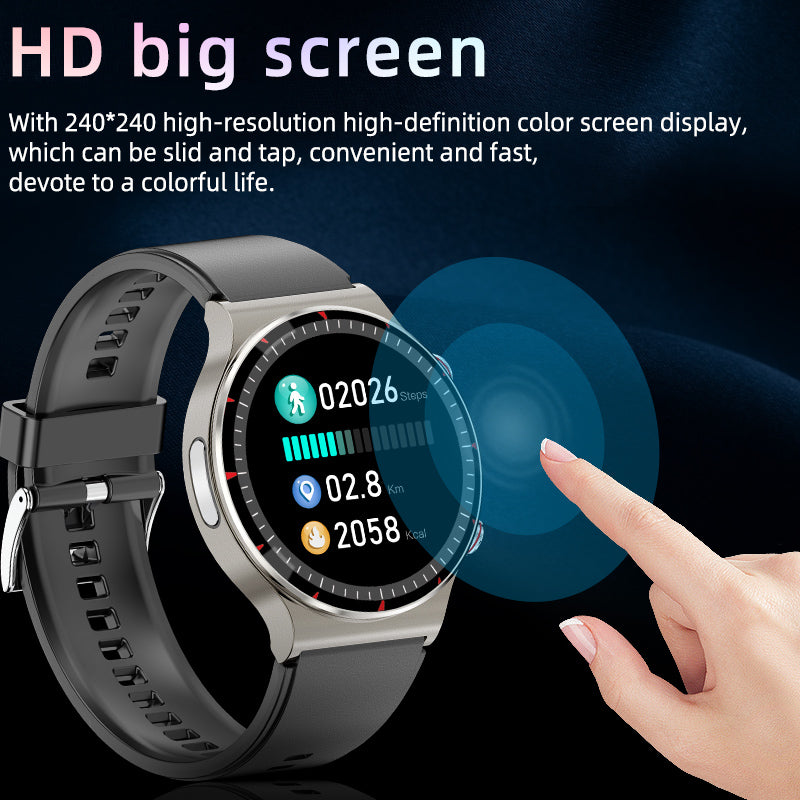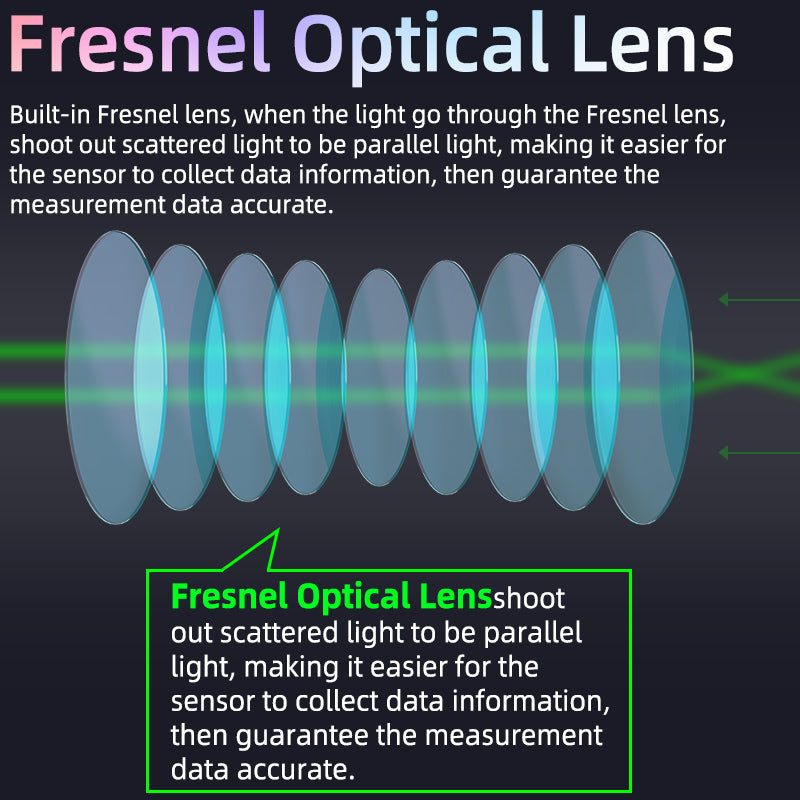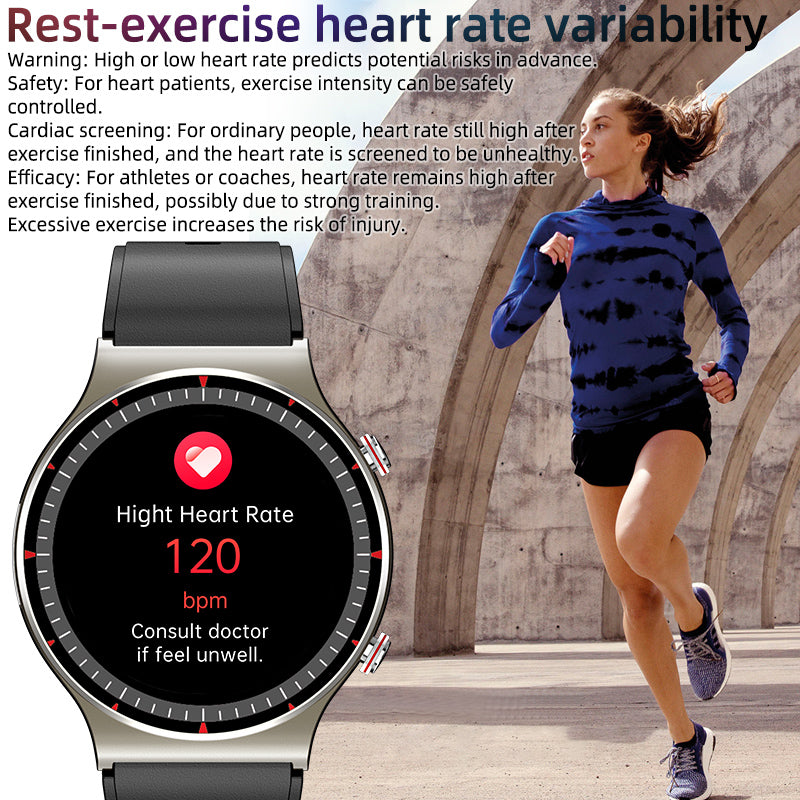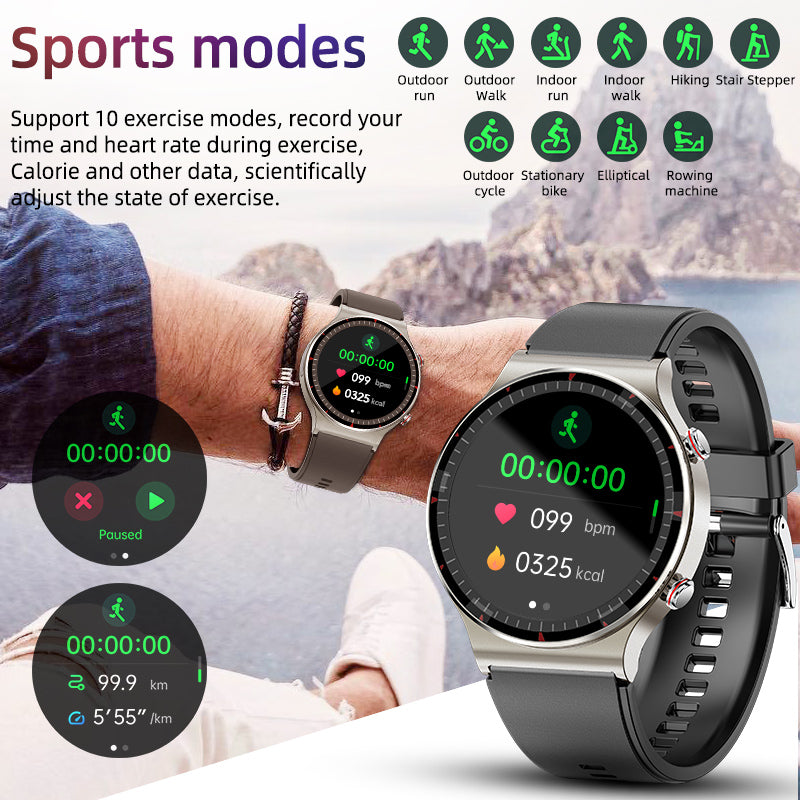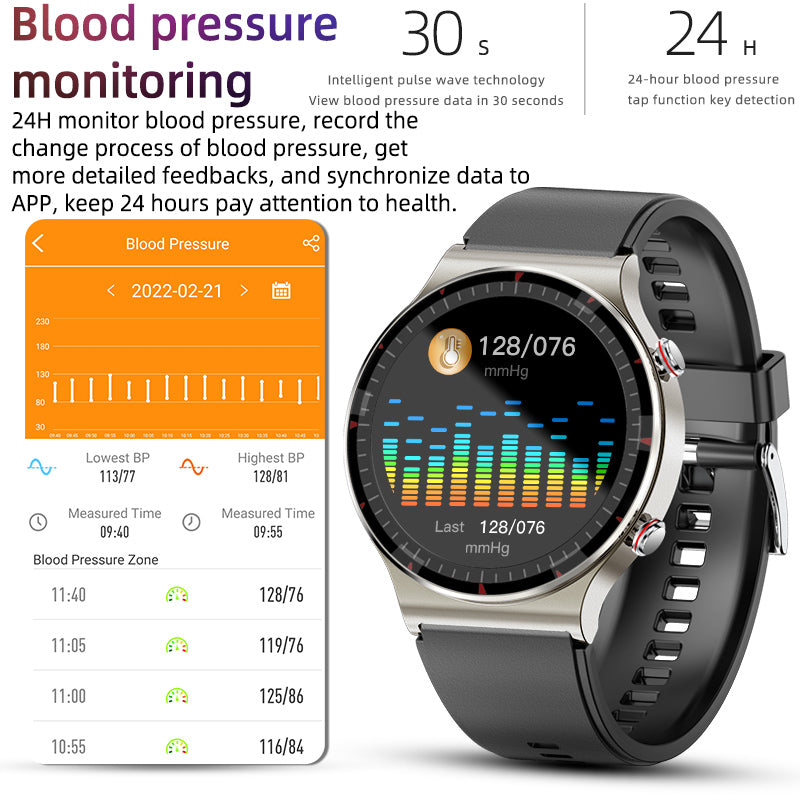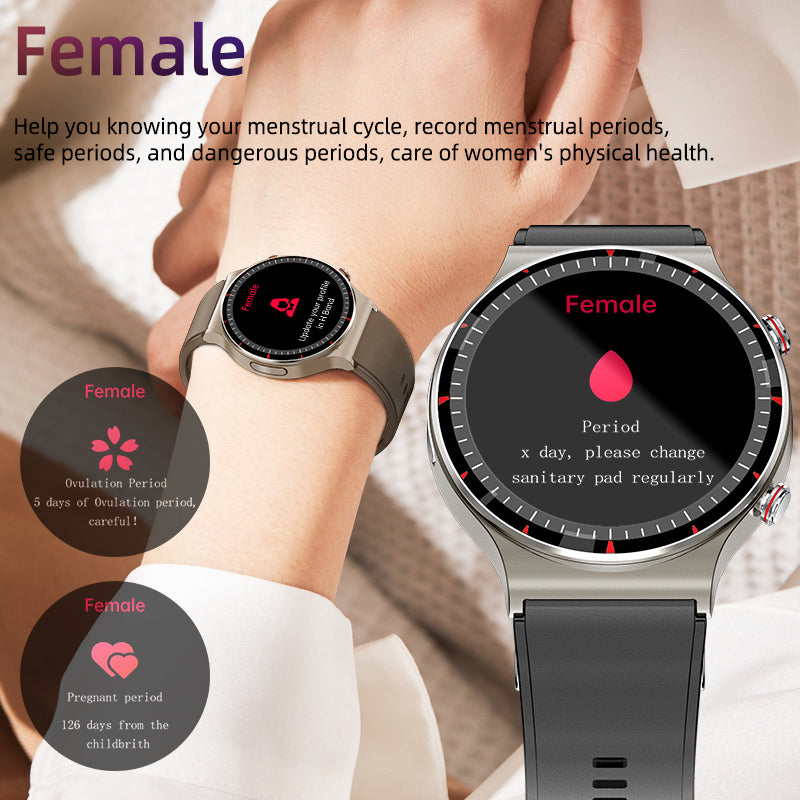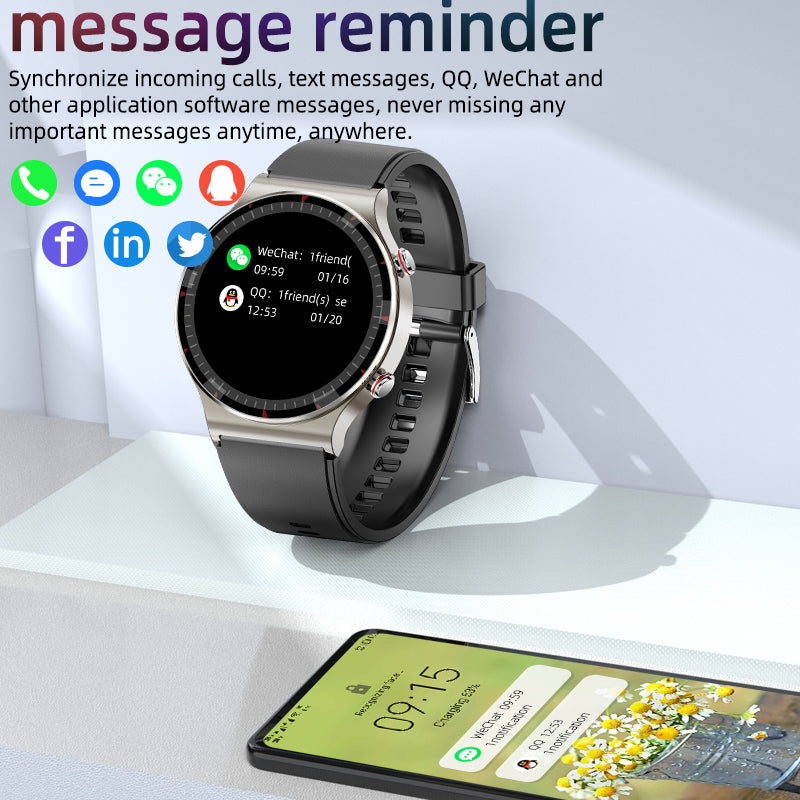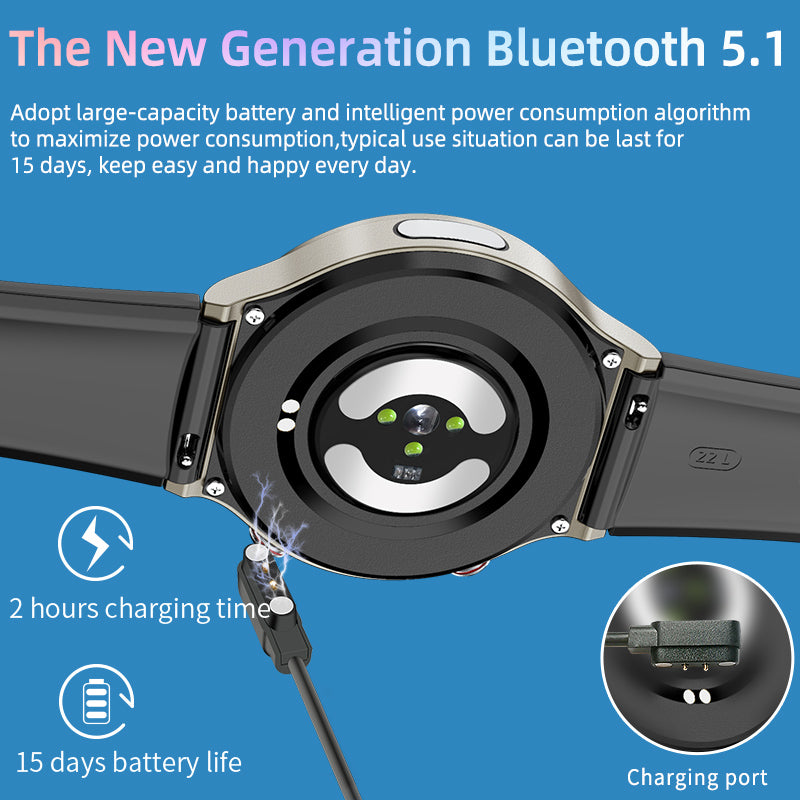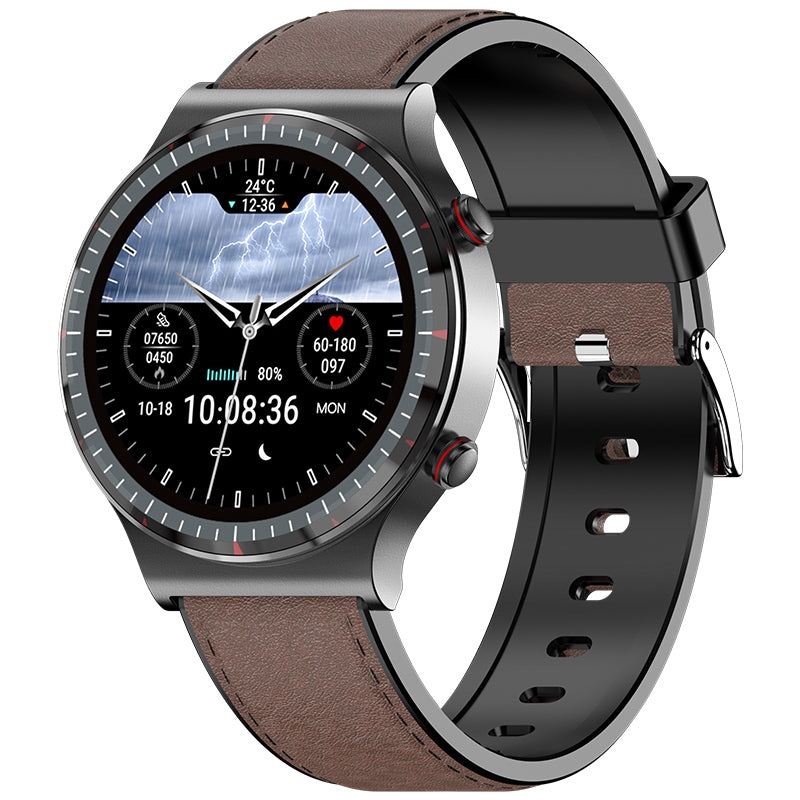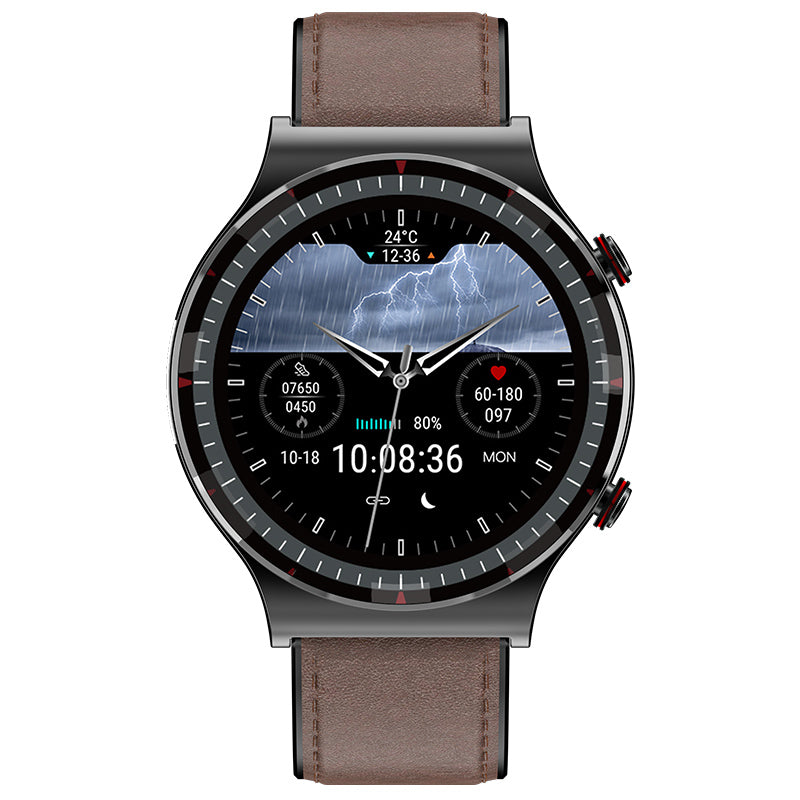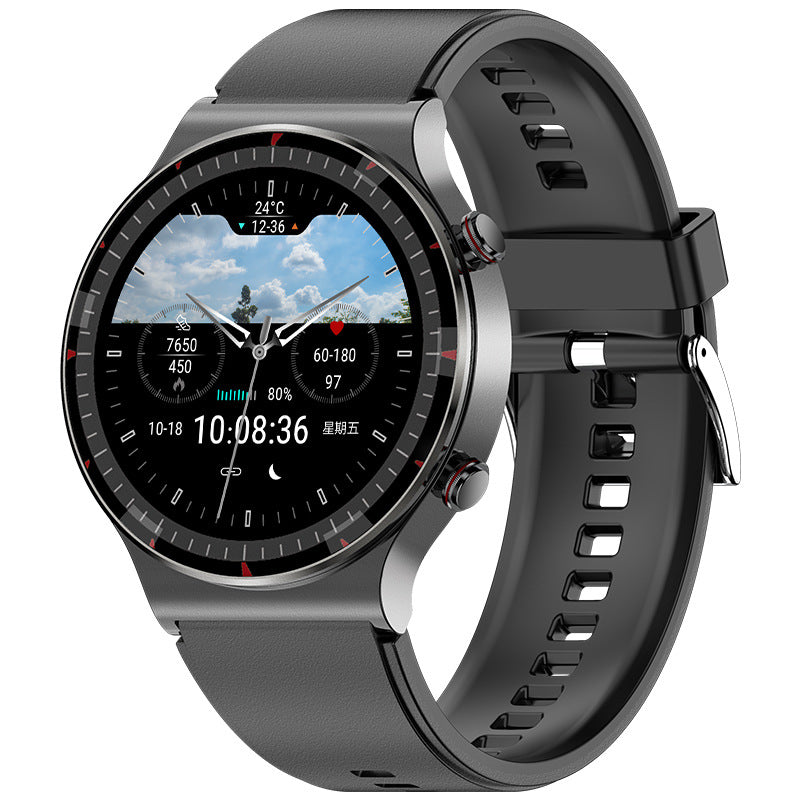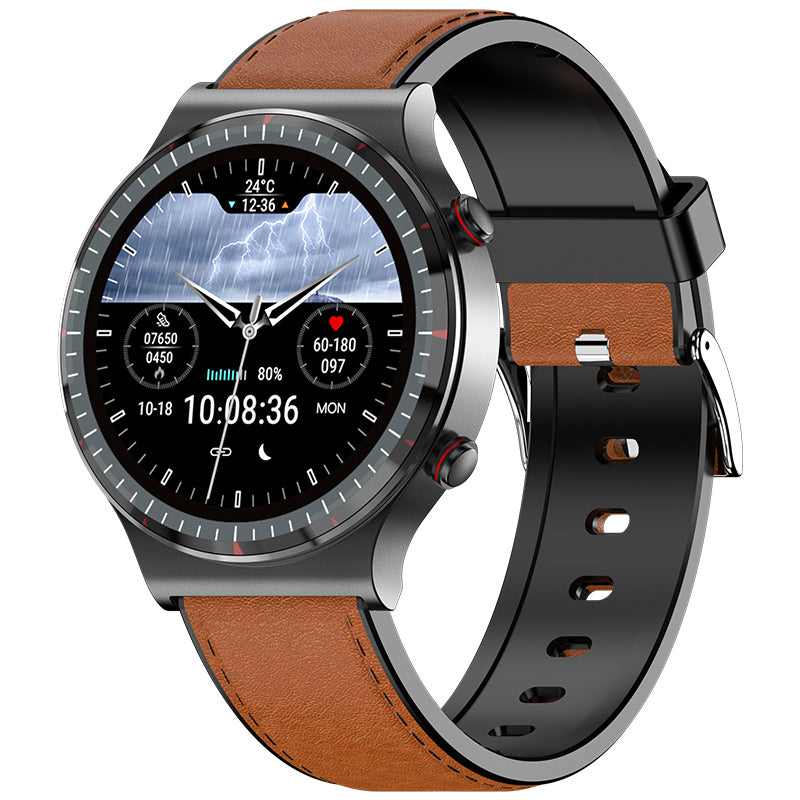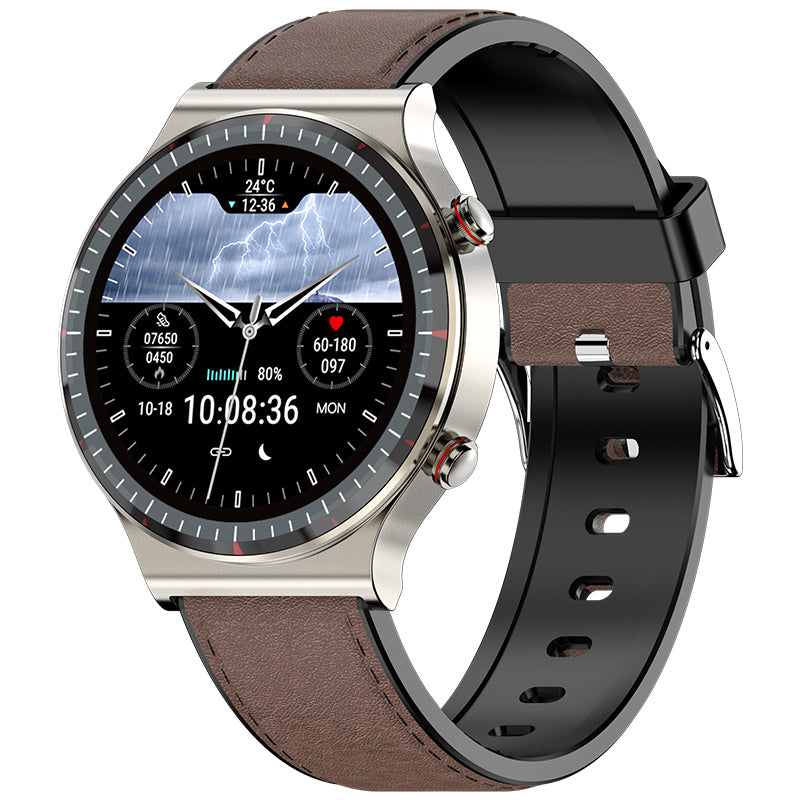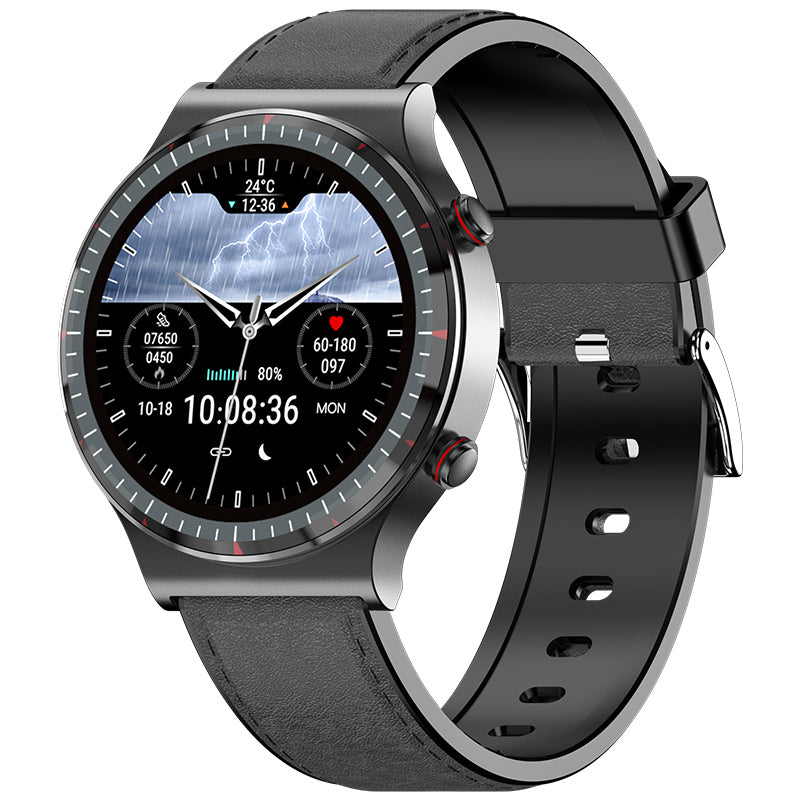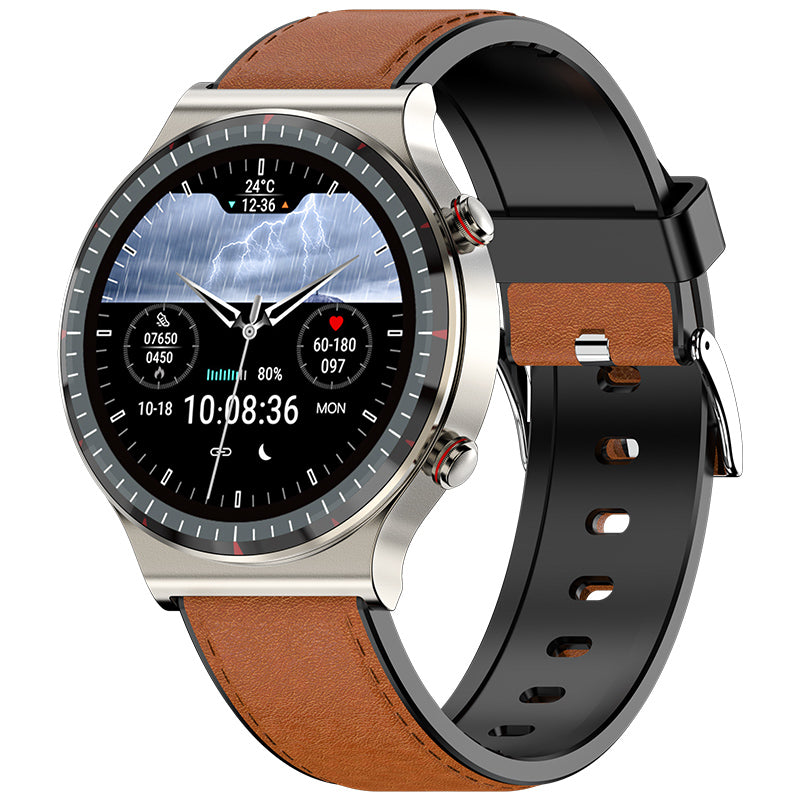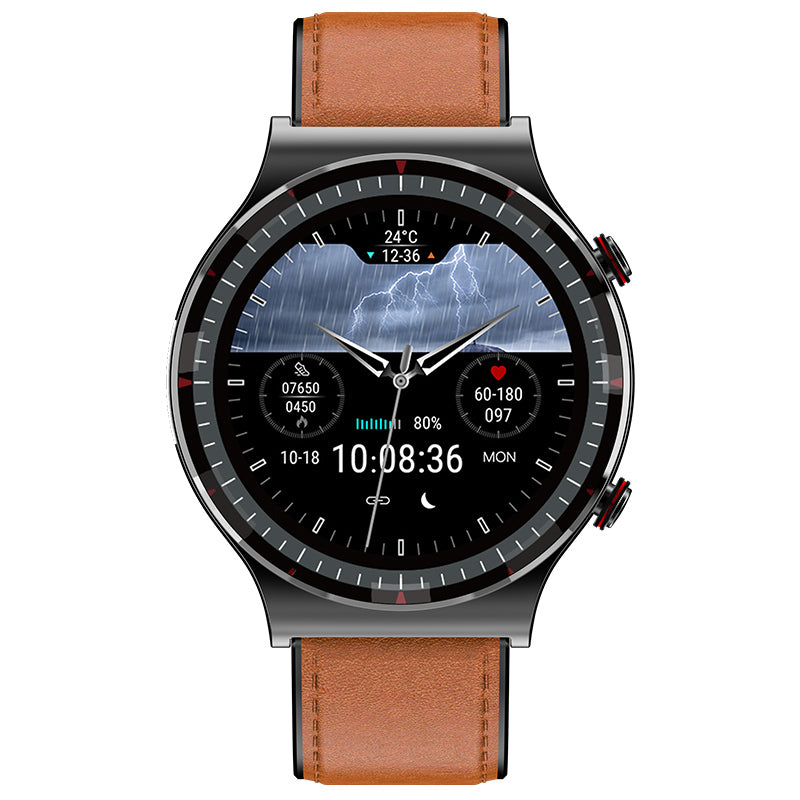 FITAOS ECG Blood Oxygen Heart rate Health Monitoring Smart Watch VKG08 for Women or Men
MAIN FUNCTIONS


Take an ECG Anytime Anywhere, Your health partner is in your hands
Built-in
Maxim

 and OSRAM 
High-end ECG|SP02|HR chip,
The fastest
30S
to capture high-precision cardiac electrical signals;
512Hz ECG sampling frequency, Acquisition of I-lead ECG signal. If there is any heart discomfort, activate the emergency mode, Quickly capture and store abnormal ECG signals, view the report through the APP, and export the ECG for sharing.
Generate Professional Health Reports for a 360-degree view of your health!
The wearer can use Hband APP to view various health or activity data collected by the smartwatch at any time, quickly assess their own health status through changes in data trends, and share data with family, friends, or doctors



Core Technology
Multichannel Optical Design, More accurate data
7-channel optical path | 6 LED light sources | 3 electrodes.
Multiple colors and wavelengths to extract different levels of skin data, more powerful new algorithm monitoring, lower power consumption, and more accurate data monitoring.
Built-in GR5515 CPU, strong processing performance
Built-in powerful GR5515 processing chipset, high-level production process and raw materials, stronger processing performance, more accurate data acquisition
Fresnel Optical Lens - More Accurate Optical Measurement Technology
Stronger light penetration for more accurate data. Built-in Fresnel lens makes the scattered light parallel when the light passes through, making it easier for the sensor to collect data information, thus ensuring the accuracy of the measurement data.
Infrared Light For Mesure Blood Oxygen
Blood oxygen concentration not only determines exercise performance but also affects sleep quality. Wrist reflex blood oxygen monitoring technology helps you better understand your blood oxygen content and apnea.
Continuous Blood Oxygen Tracking
At night, it will continuously track your blood oxygen saturation, analyze your sleep health and breathing health, breathing rate, sleep apnea, and even your physical activity times and heart load, it can track, of course, it also There is nighttime hypoxic vibration reminder.
Tip. The tracking of blood oxygen saturation is conducive to the early detection of respiratory system problems, and paying attention to blood oxygen saturation is beneficial to health.
Blood Pressure Monitoring
Monitor blood pressure, record the process of blood pressure changes, get more detailed feedback, and sync the data to APP to keep an eye on your health 24 hours a day.
HD Big Color Screen - Clearer Data Presentation and More Comfortable Touch
Full circle High-definition touch color screen with 240*240 high-resolution high-definition color screen display, which can be slid and tapped, convenient and fast, devote to a colorful life.
Support 10 exercise modes, record your time and heart rate during exercise, calories, and other data, and scientifically adjust the state of exercise.
24 hrs monitor your heart rate and synchronize the data to the APP. Higher heart rate warning, always take care of your health.
Rest-exercise heart rate variability
Warning. A high or low heart rate can predict potential disease risk in advance.
Safety: Exercise intensity can be safely controlled for patients with heart disease.
Heart Screening: For the average person whose heart rate remains high at the end of the exercise, the heart rate is screened for unhealthiness.
Validity: For athletes or coaches, a heart rate that remains high at the end of exercise may be at increased risk of injury due to overly intense training
Sleep Monitoring and analysis
Monitoring the whole process of sleep quality, real-time heart rate, sleep breathing quality, more accurate determination of sleep (sleep duration, number of awakenings, duration of light/deep sleep) based on big data analysis, scoring sleep quality, and helping to record complete sleep information for a good night's sleep.
Help you know your menstrual cycle, record menstrual periods, safe periods, and dangerous periods, and care for women's physical health.
After BlueTooth is connected, tap on the device find phone function the phone will ring
The New Generation Bluetooth 5.1 - Lower Power Consumption
Data transmission is more power efficient, more stable, and faster. Adopt a large-capacity battery and intelligent power consumption algorithm to maximize power consumption typical use situation can last for 15 days,keep easy and happy every day.
Please note:
1. The product is not a medical device. Message content is for reference only, and should not be used for clinical diagnosis.
2. Not applicable to users under age 18, or those diagnosed with other types of arrhythmia. Please read the instructions thoroughly.
3. This app is not a medical device. Data obtained during the use of this app is for reference only, and should not be used for medical research, diagnostic, or treatment purposes. Please read the Instructions thoroughly.
4. This product can be worn during shallow water activities, such as swimming in pools and shallow waters along the coast, but not for long periods of time in the water. It should not work in hot showers, hot springs, or saunas (steam rooms), nor during platform dives, high-pressure rinsing, or other activities that involve high water pressure, high temperatures, high levels of humidity, or fast-flowing water. It is not suitable for scuba dives, or technical dives. Rinse off the watch with fresh water after using it in ocean water. Leather and metal straps are not designed to withstand swimming or sweat. It is recommended that you wear other types of straps, in such scenarios. Water resistance is not permanent, and protection may decrease with daily wear and tear.
Love it!
Very easy to set up and use. I have all systems on for monitoring so my battery isn't lasting as long, but that's okay. But I'll get at least a week as it is and I'm okay with that. I like how I can change the look of the screen, the watch fits well and looks good. Highly recommend the watch!
To try to be a lovely person, do not complain, do not laugh at who, do not envy who. The sun is shining, the wind and rain running, do their own dreams, go their own way. Wish you a happy life ~
New owner
Since I a technology challenge my daughter came by today to set it up. She had no difficulties in the set up. I love the ease of accessing the health tracking on my phone.
Fantastic and amazing beautiful watch. Honest promotion 100%
I extremely love the health watch. I'm amazed by how it reads your vitals. Every day I go out for exercise and monitor my heart rate, distance etc. I love the way it tracks your sleep schedule which gives me insight on how well I slept. I now recognize my sleep patterns and trying to achieve better sleep habits. The phone app is so useful to visualize you health monitor. I was really impressed by quality and accuracy. The only downside is it's not waterproof and it would be nice not to charge it so often. I have a drone which charges off its controller. You'd think there would be a way to charge off you phone or other device. Maybe the band could be solar powered. I'm still extremely happy with the performance and the product and price point. I definitely would recommend this amazing high quality watch to anyone. The size is absolutely perfect for viewing. I give this beautiful amazing watch 10/10. Not often do I ever get a product online that I'm so satisfied with. I really thought it was a scam. The advertising was on point. The only thing I could find that was of some concern was 3 weeks of wait time to receive the product. Your watch is outstanding, amazing excellent quality band and looks great. Excellent excellent execution. Hats off to the inventor.
BEARSCOME BCG08 Blood Oxygen Heart rate Health Monitoring Smart Watch for Women or Men
Came in less than 2 weeks. Look great, it works, it will be seen how much exactly
No Delivery
I would Love to tell you how much I Love my watch, but I have not received it yet..
Could tell me where it is?