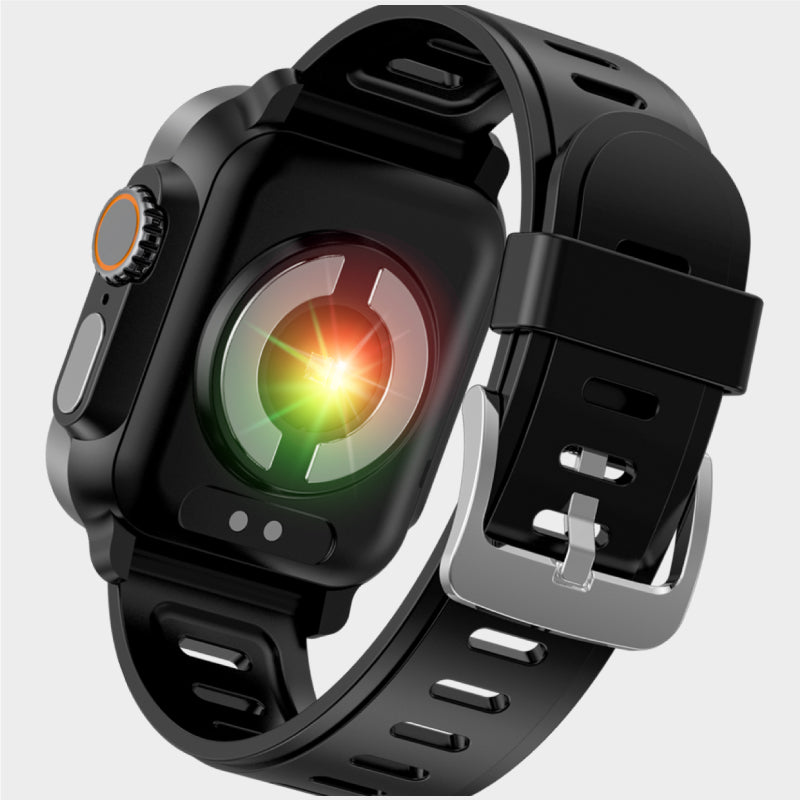 True Sensing, True Algorithm, Protecting Health
Advanced True Sensor
The powerful 3-in-1 Fitaos advanced sensor controls three health sensors effectively: Photoplethysmography (PPG) sensor, Electrical Heart sensor (ECG), and infrared (IR) sensor. It can continuously monitor the heart rate 24 hours a day, and send notifications of Irregular rhythm in real time to protect your health at any time.
Multidimensional Health Monitoring
Not Just A Fitness Tracker
With its built-in true sensor and health tracking algorithm, the Vee goes beyond a fitness tracking smartwatch. The app focuses on sleep and recovery most, with accurate tracking of heart rate, ECG and blood oxygen. Help you move more, sleep better, and stay healthy.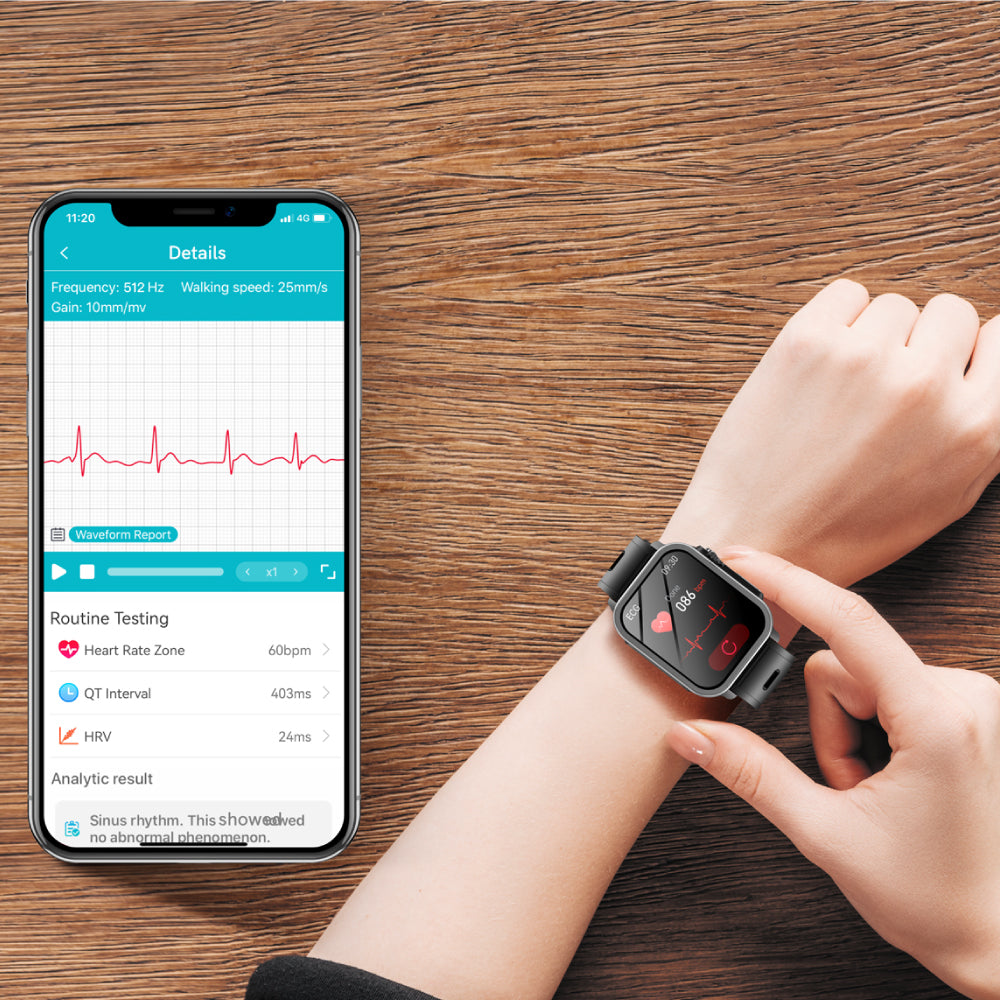 512Hz ECG high Sampling Rate
Take an ECG at any time
Fitaos VEE smartwatch automatically records your heart rate, day and night. And at any time, in 30 seconds, an ECG reading is ready whenever you want. The ECG app can record your heartbeat and rhythm using the electrical heart sensor and then check the recording for atrial fibrillation (Afib). A report can be easily shared with a doctor via the app.
AI Automatic Analysis
Analyze 13 Heart Health States
There are HRV heart health index analysis and Lorentz scatter plot in our H Band APP. The easy-to-understand Lorenz scatter diagram analysis can accurately and intuitively express the overall variability and instantaneous variability of heart rate.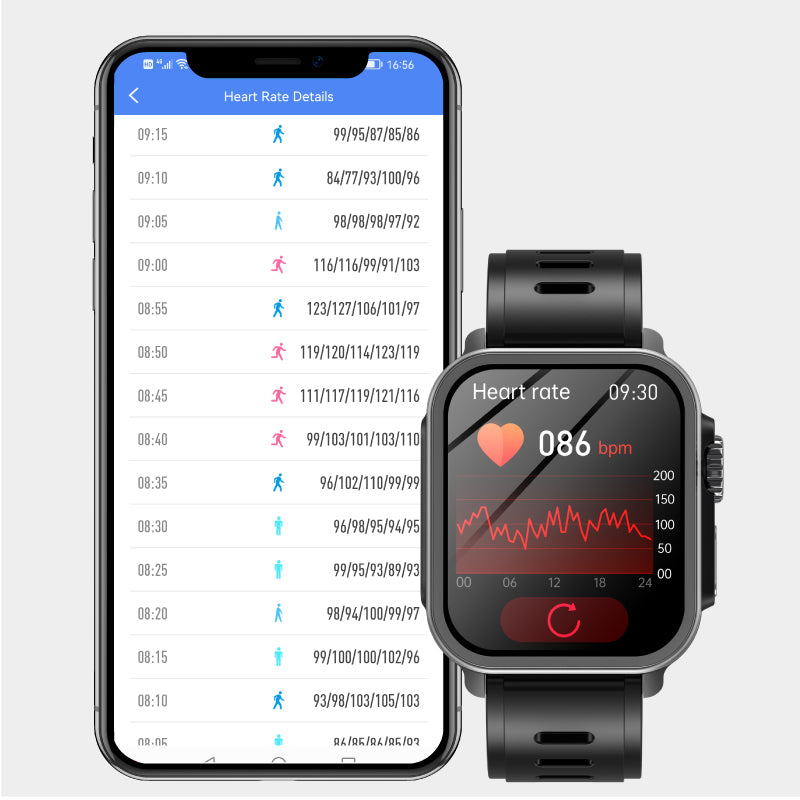 Really record every heartbeat
Continuous Heart Rate Tracking 
Fitaos's proprietary optical heart rate solution tracks your heart rate from the wrist easily and comfortably every day and night. With continuous heart rate monitoring you can get a comprehensive view on how your heart behaves during the day as well as when you sleep,and get a complete overview of your daily activity.
7*24 hours automatic tracking
Learn How Your Heart Works
Your heart rate changes in response to the demands of your muscles during daily activities or fluctuate over the course of night. Also stress and emotions can cause changes in your heart rate. Accurate heart rate data, posture status and time records allow you to intuitively evaluate and understand heart performance.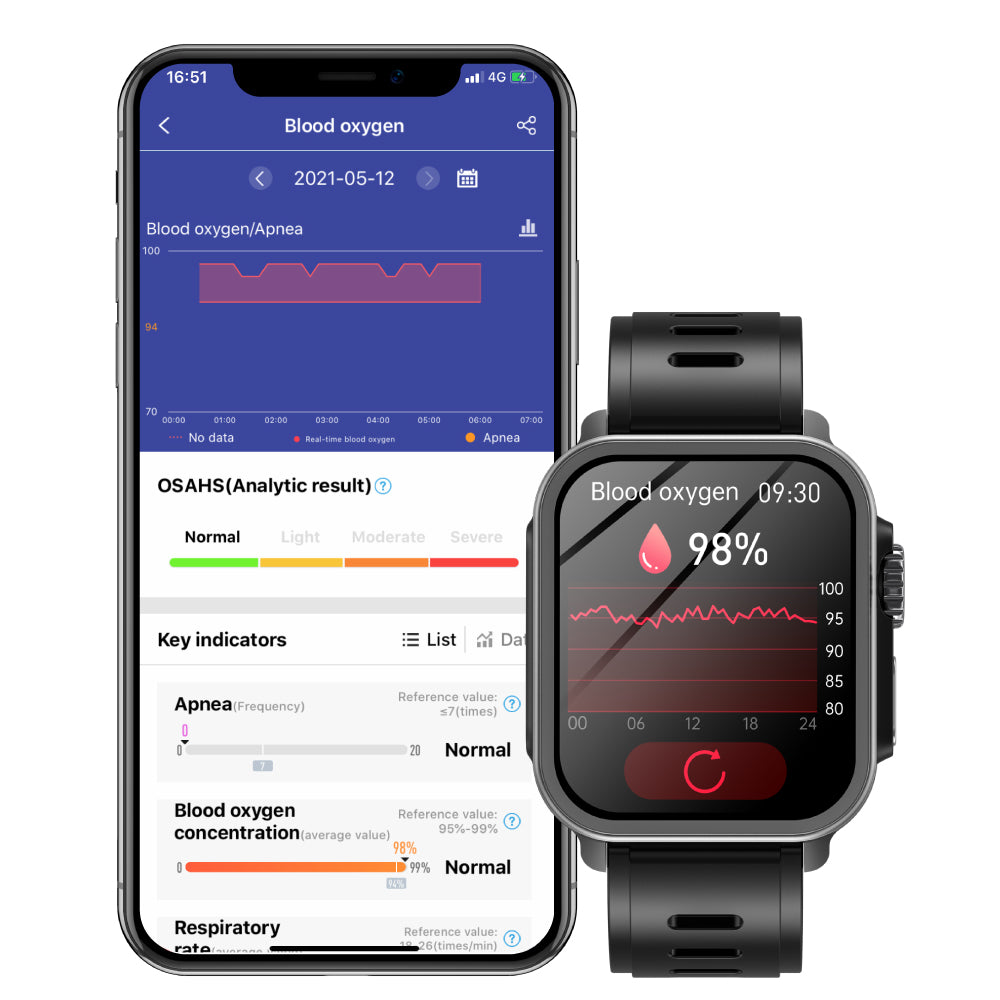 Automatic Tracking At Night(00:00-07:00)
Intelligent SpO2 Monitoring
The remarkable SpO2 sensor and app in Fitaos VEE smartwatch allows you to take on-demand readings of your blood oxygen from your wrist in only 30 seconds. Also, monitor breathing disturbances during sleep to better understand sleep quality for overall wellness.
00:00-07|Wake up from hypoxia
Screening For Sleep Apnea
Using the blood oxygen automatic detection function. Fitaos Vee smartwatch can monitor and record your blood oxygen saturation levels at 00:00 to 07:00. Detect changes in your blood oxygen levels and alert you at night when it drops to an unsafe level. Helping you to predict potential health risks in advance.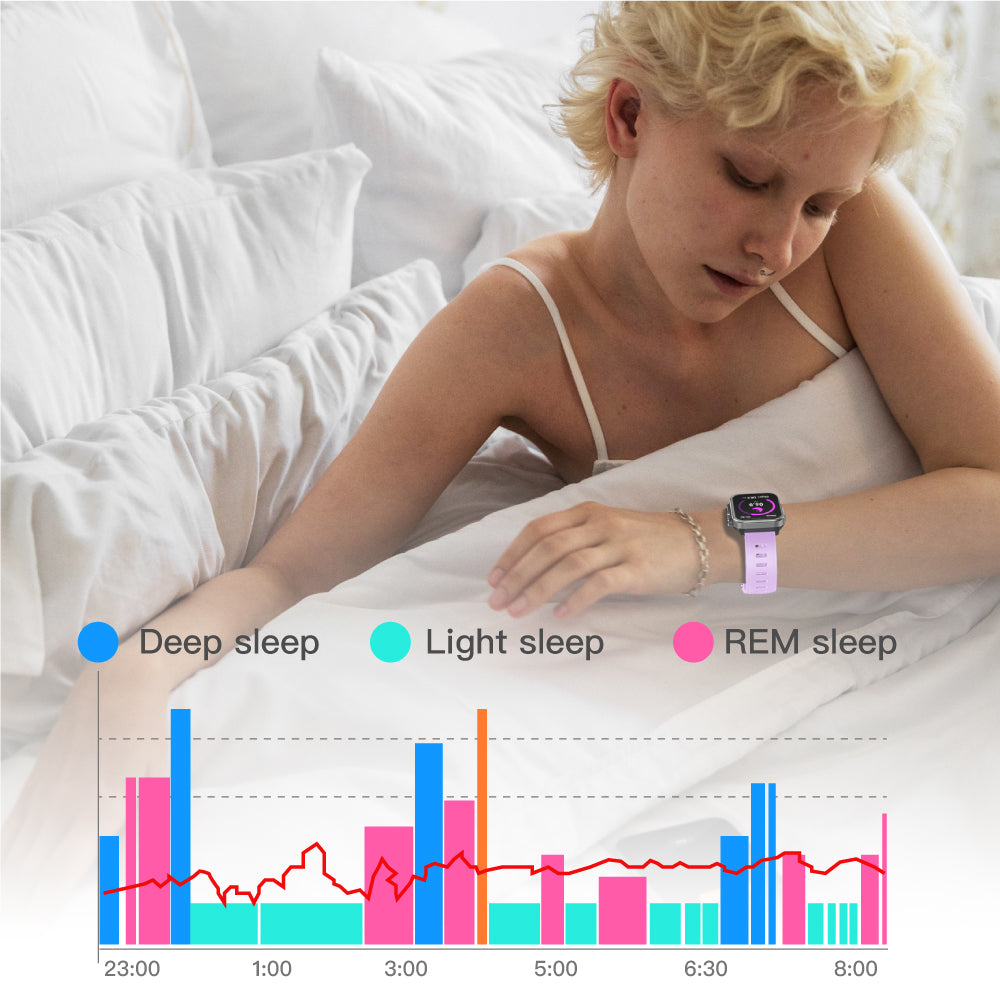 Automatically recognize and track sleep
Sleep Tracking Around The Clock
With Fitaos Vee's ability to track your Deep, Light, and REM sleep stages, as well as your heart rate, blood oxygen, respiratory rate, and skin temperature, you'll gain valuable insights into your sleep patterns and overall health in the Fitaos H Band Health app.
Interpret your sleep with data science
9 Dimensions Of Sleep Analysis
By leveraging the optical heart rate sensor on the watch, we measure heart rate and Heart Rate Variability (the time measured between each heartbeat) which combined with the accelerometer allows us to determine when you fall asleep, when you wake up, and what level of sleep you are in.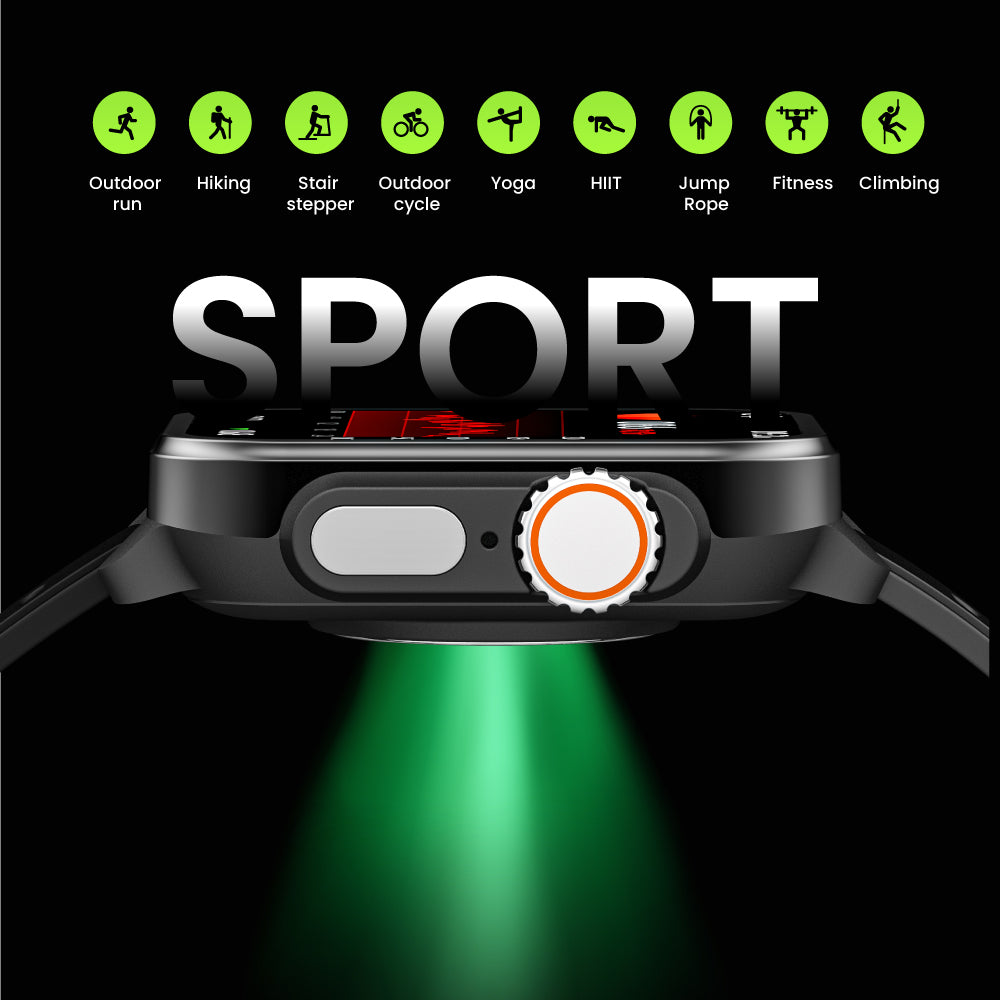 included most important types of exercise
20+  Different Types Of Exercises
Embrace the path of health through running, yoga, and cycling. Embark on the journey of movement with open arms, as heart rate, distance, calories, and steps remain steadfast companions. Activate the mode of training, where safety and effectiveness walk hand in hand, guiding your workouts.

Pedometer on your wrist
Automatically Counts Each Step
Fitaos Vee fitness sports smartwatch works like a pedometer that counts each step a person takes by detecting the motion of the person's hands or hips. Great for people who want to keep track of their fitness or just want to know how many steps they've taken that day.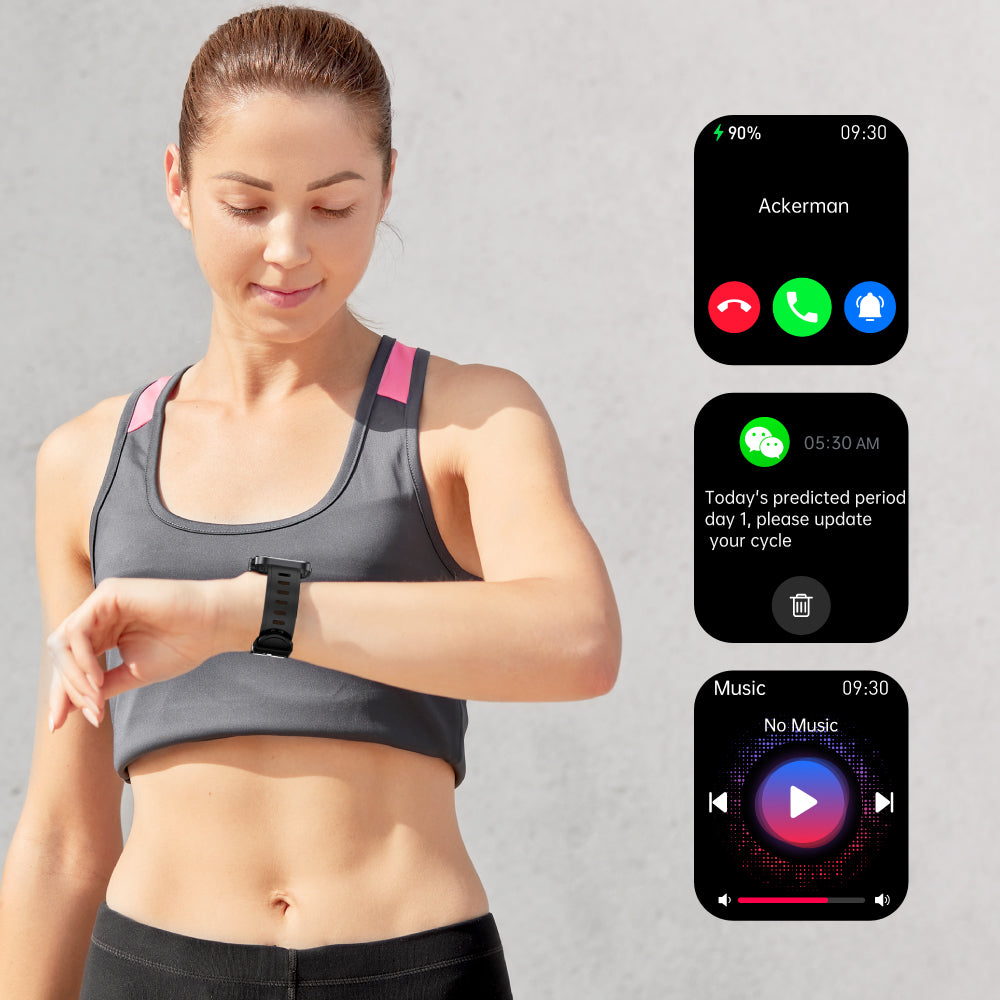 Built-in speaker and microphone
Stay Connected
During the exercise process, bluetooth calls, playing music, and checking messages can be done anytime, allowing you to not miss any important messages even while working out. Iphone or android? Doesn't matter. Connect your watch and stay connected.
DIVERSE WATCH FACE
Switch UP Your Style
With over 100 watch faces in the built-in H Band app, and new designs dropping in frequently, you'll have plenty of options to match your style or upload a picture to the H Band App and set it as your watch face. 
Everywhere is carefully crafted
Design For Practicality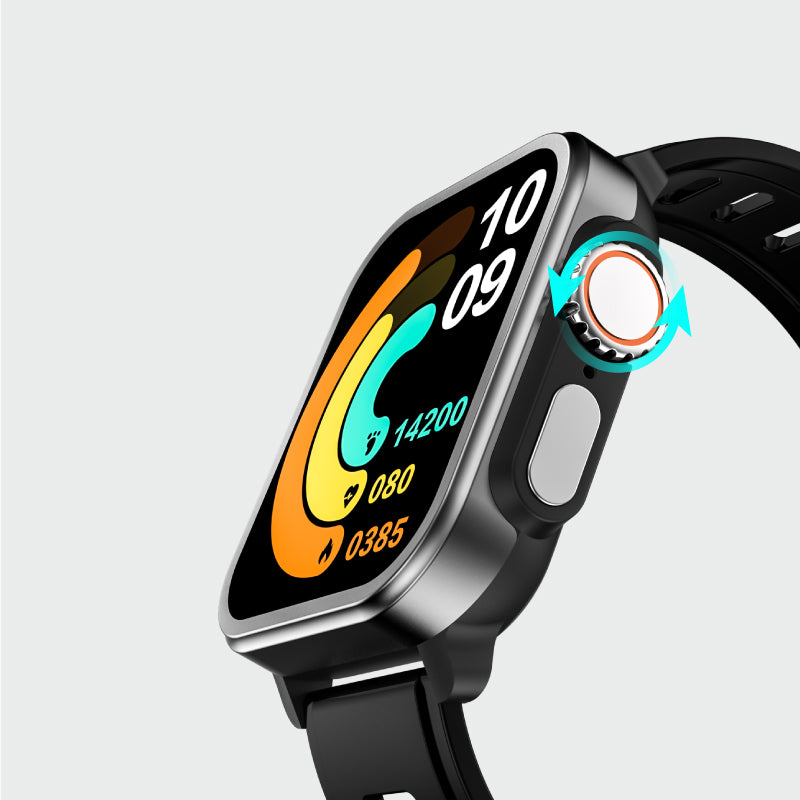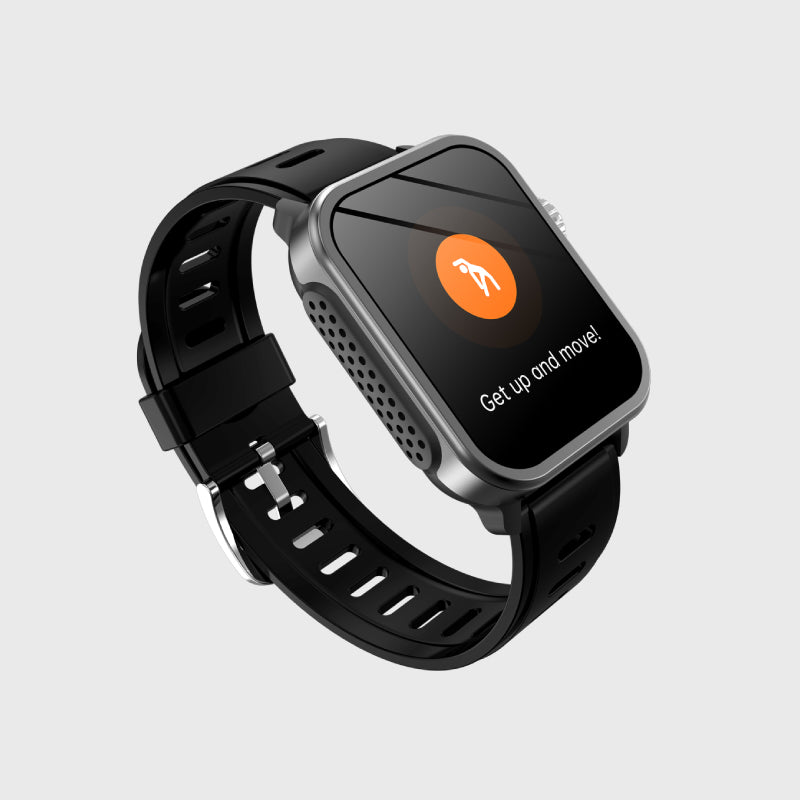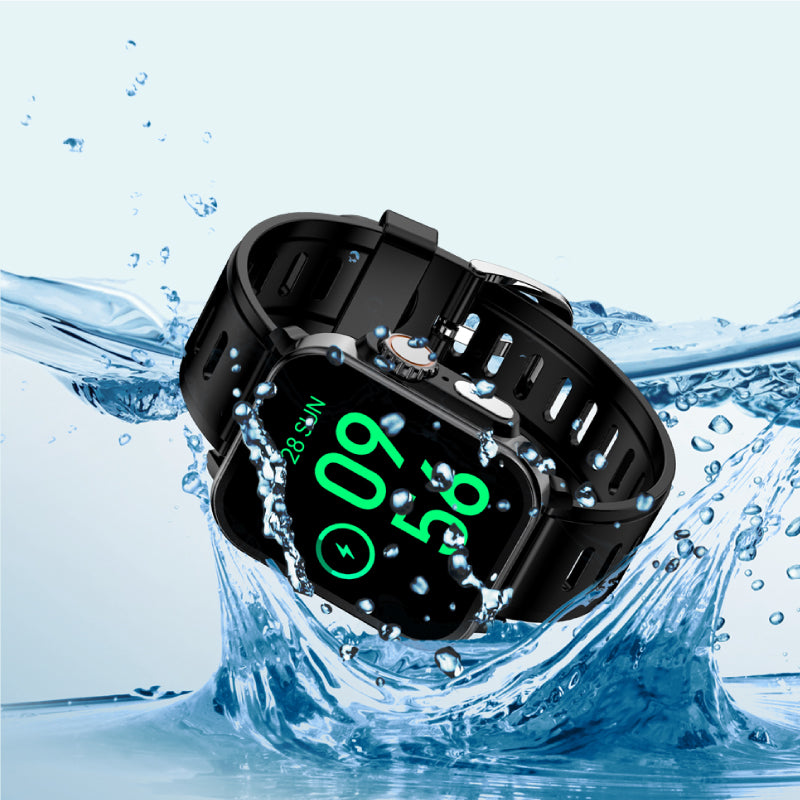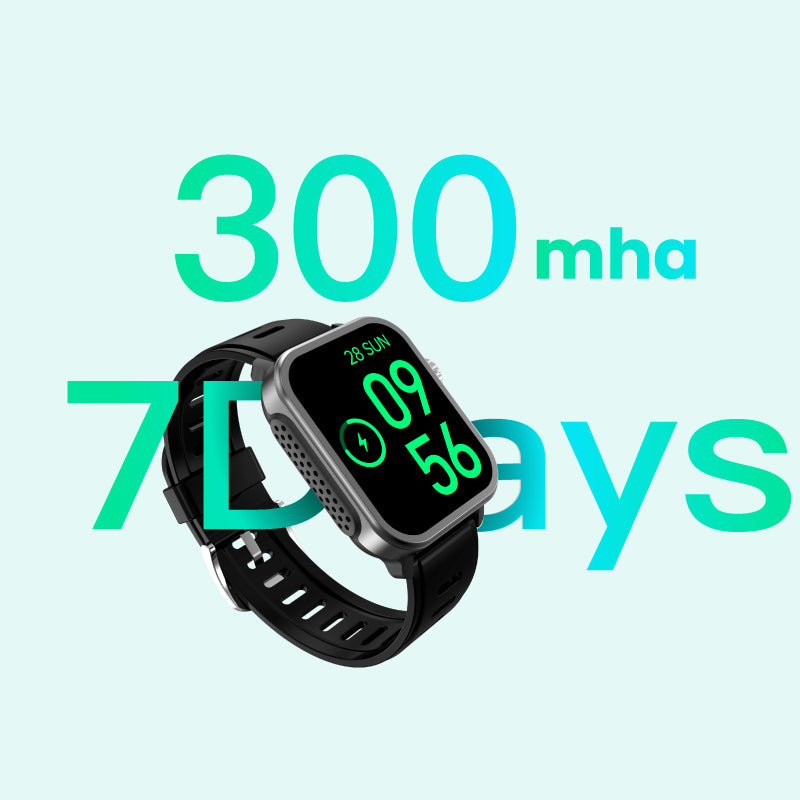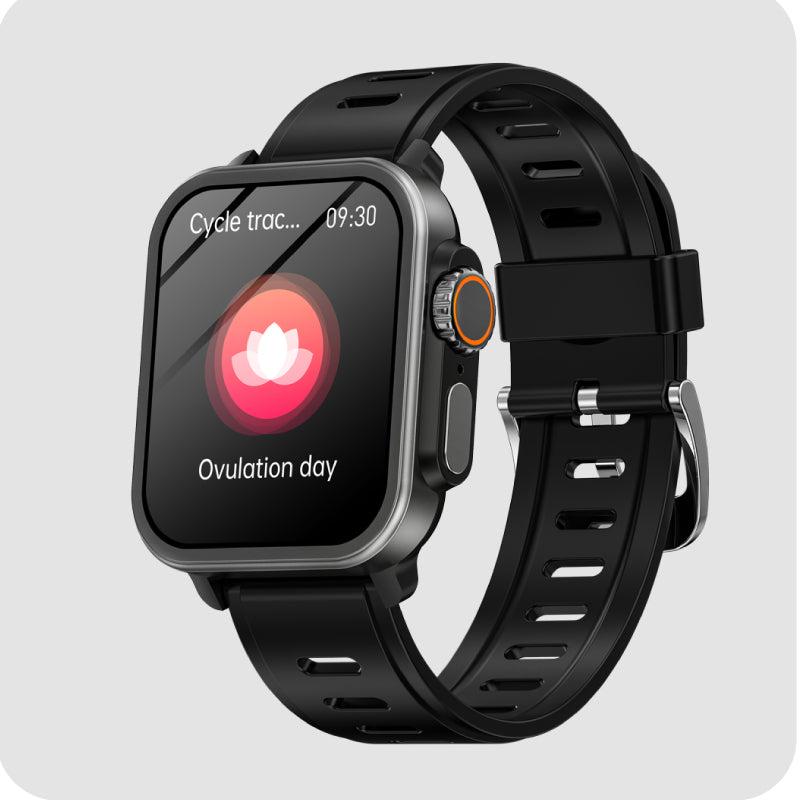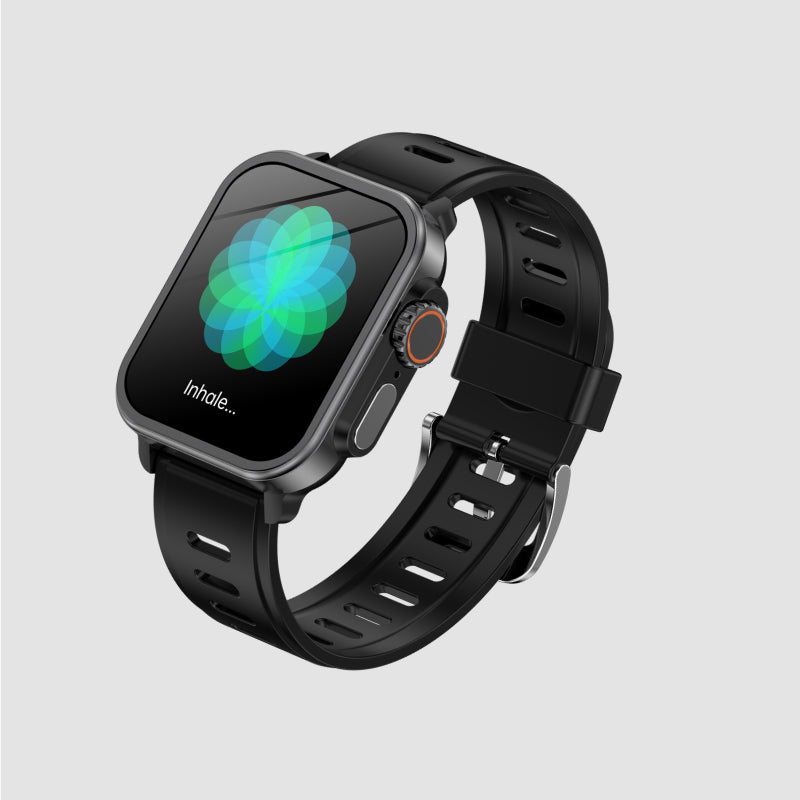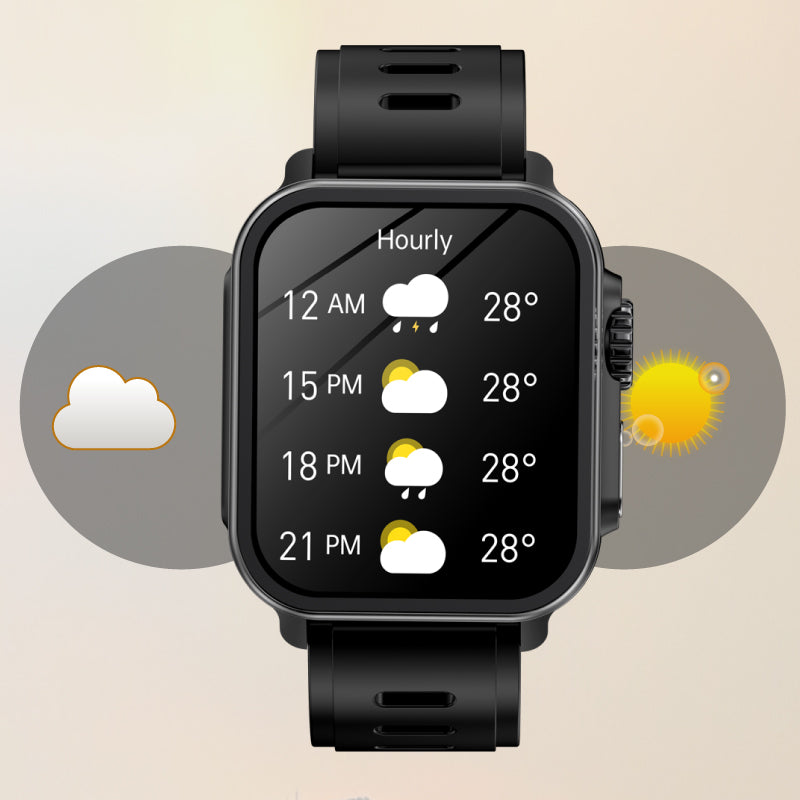 Application Reference for Trend Following and Data
More For Health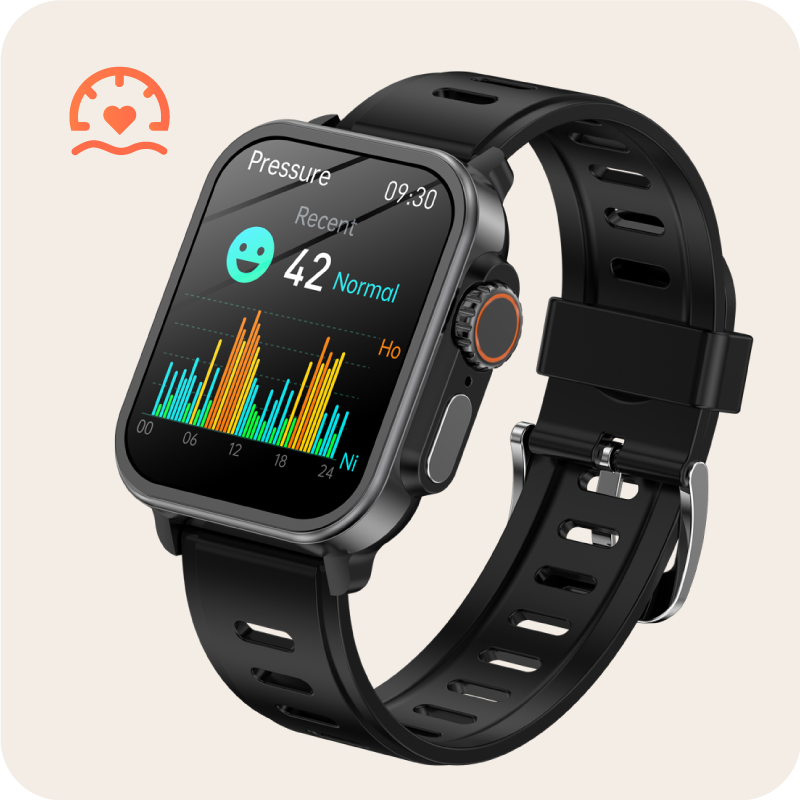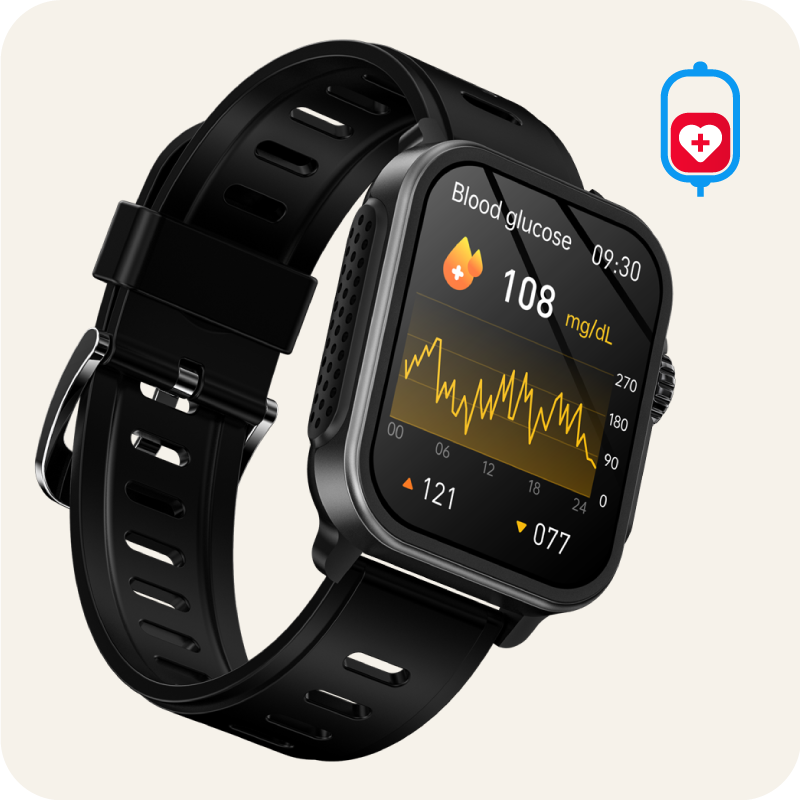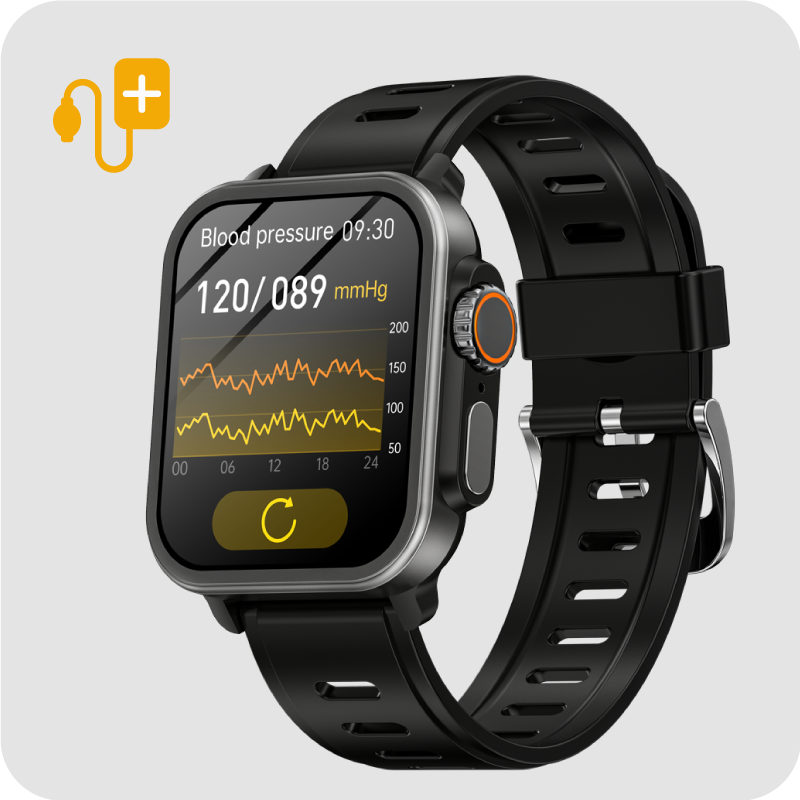 Blood Pressure Monitoring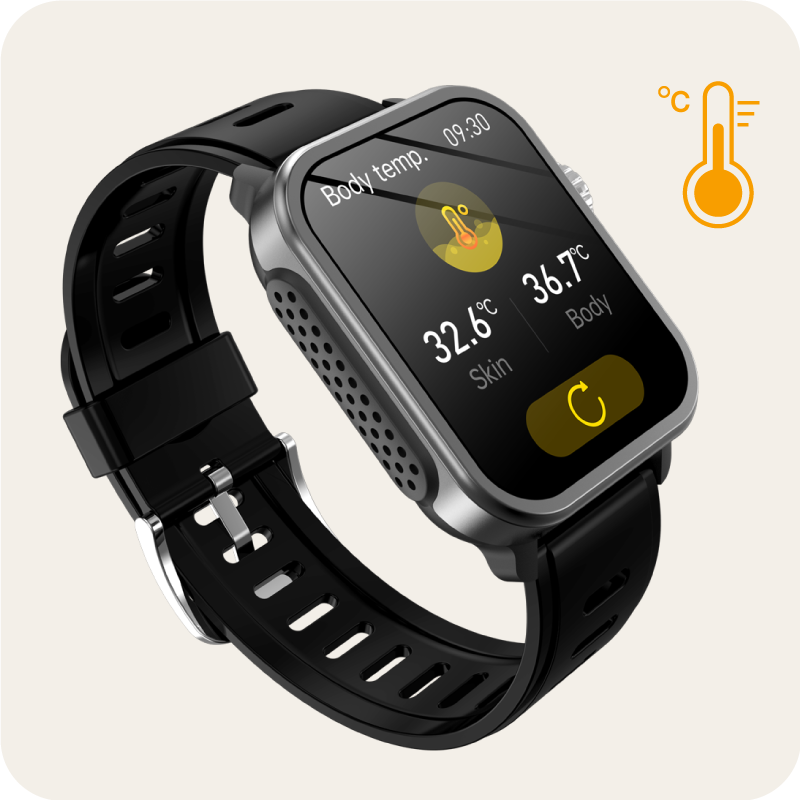 Body Temperature Monitoring
Your health Assistant
H BAND
Friendly to both Android and iOS users, he H BAND App on your phone conducts health and exercise data display and analysis, features a watch face store, provides system updates for your watch, and facilitates smart device management.
The heart rate monitoring is very accurate, and I can share my ECG with my doctor at any time. It's a fantastic health monitoring watch.
1. The product is not a medical device. Message content is for reference only, and should not be used for clinical diagnosis.
2. Not applicable to users under age 18, or those diagnosed with other types of arrhythmia. Please read the instructions thoroughly.
3. This app is not a medical device. Data obtained during the use of this app is for reference only, and should not be used for medical research, diagnostic, or treatment purposes. Please read the Instructions thoroughly.
4. This product can be worn during shallow water activities, such as swimming in pools and shallow waters along the coast, but not for long periods of time in the water. It should not work in hot showers, hot springs, or saunas (steam rooms), nor during platform dives, high-pressure rinsing, or other activities that involve high water pressure, high temperatures, high levels of humidity, or fast-flowing water. It is not suitable for scuba dives, or technical dives. Rinse off the watch with fresh water after using it in ocean water. Leather and metal straps are not designed to withstand swimming or sweat. It is recommended that you wear other types of straps, in such scenarios. Water resistance is not permanent, and protection may decrease with daily wear and tear.
5. After you receive the goods, please be sure to charge the smartwatch before starting the device.