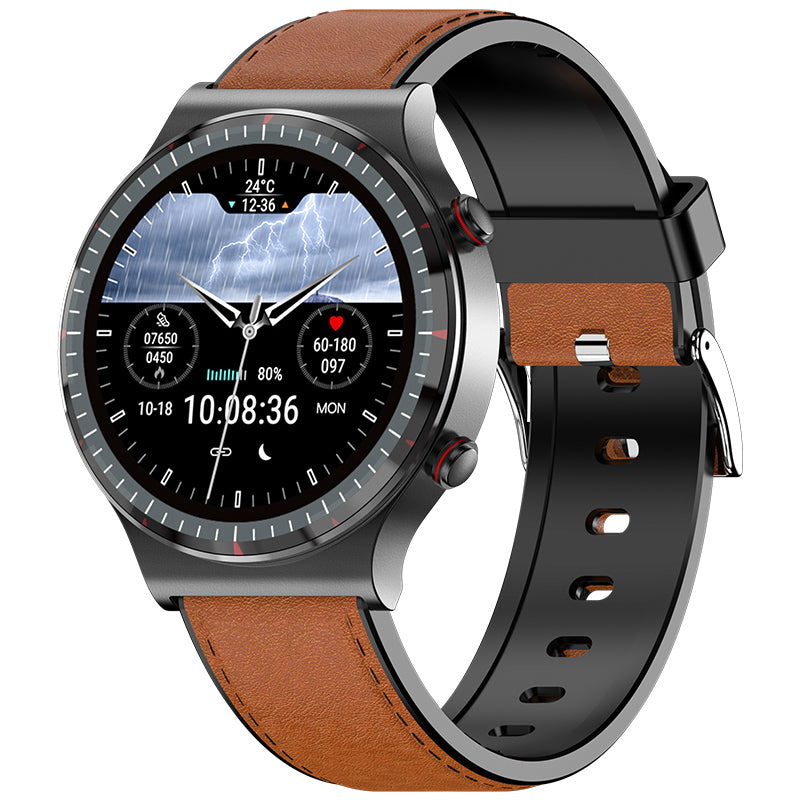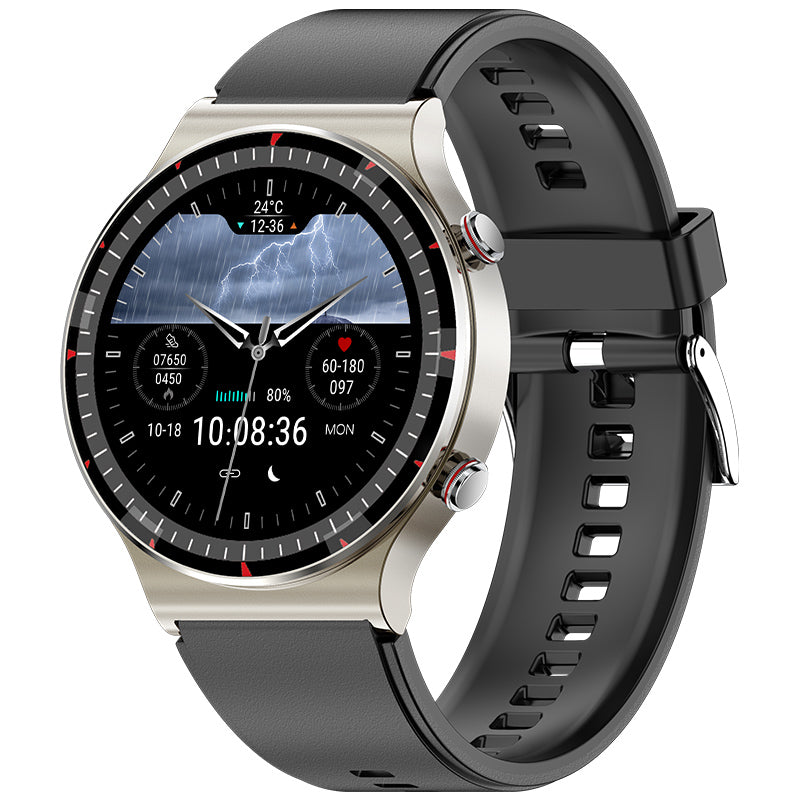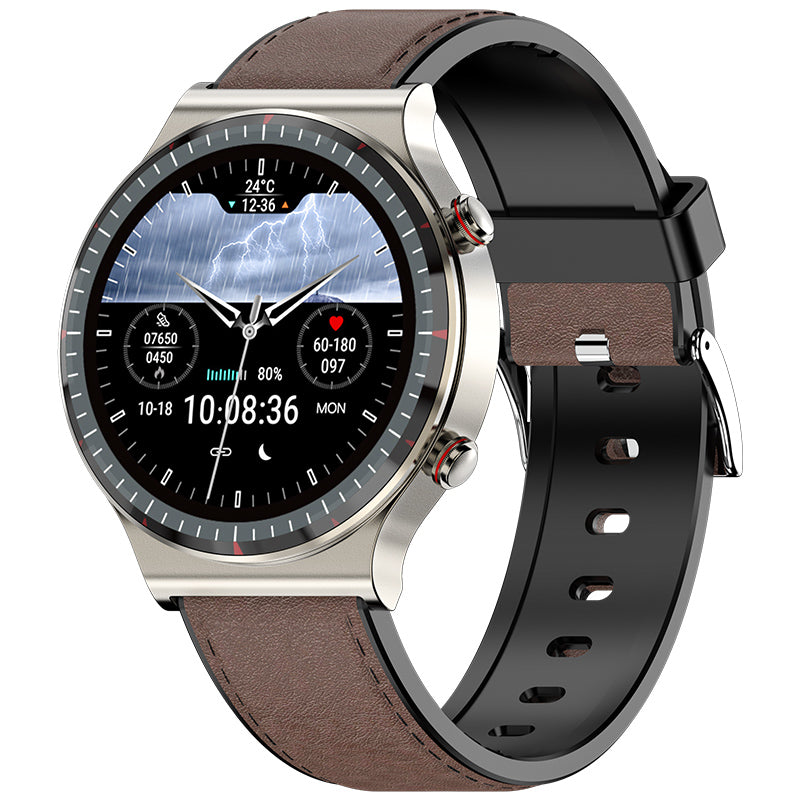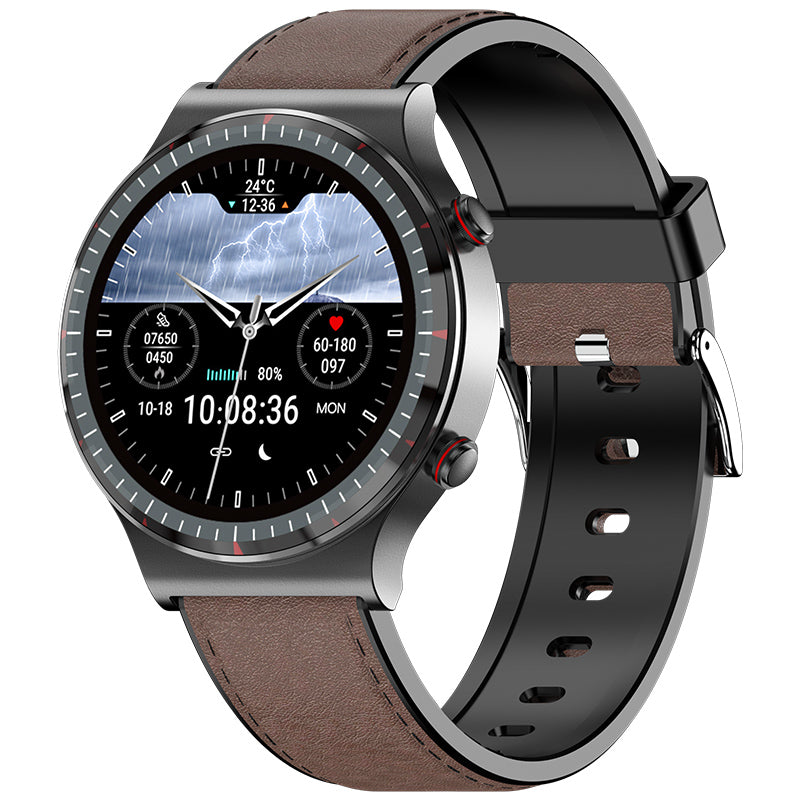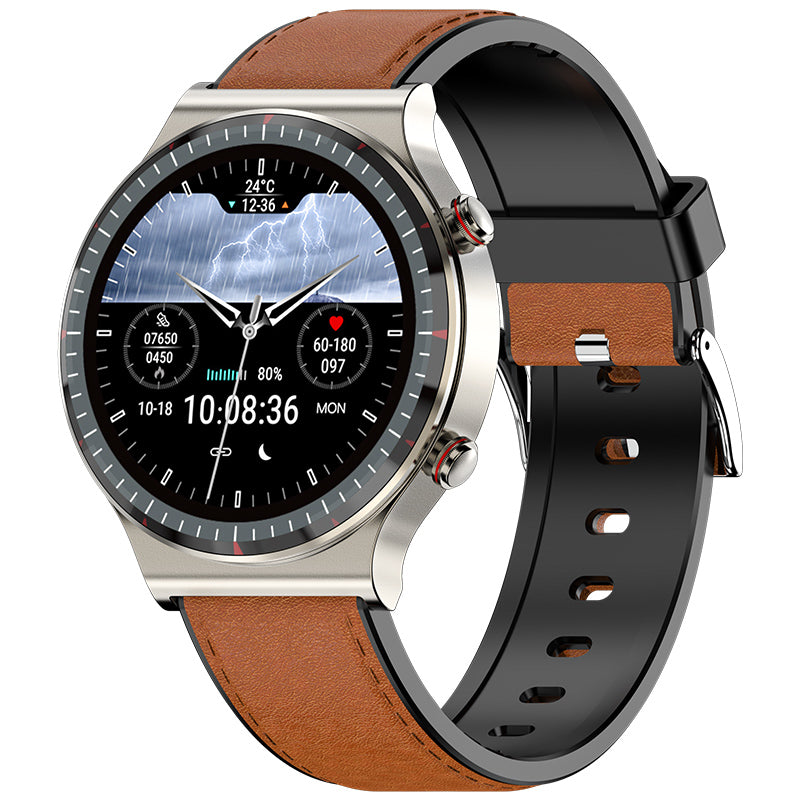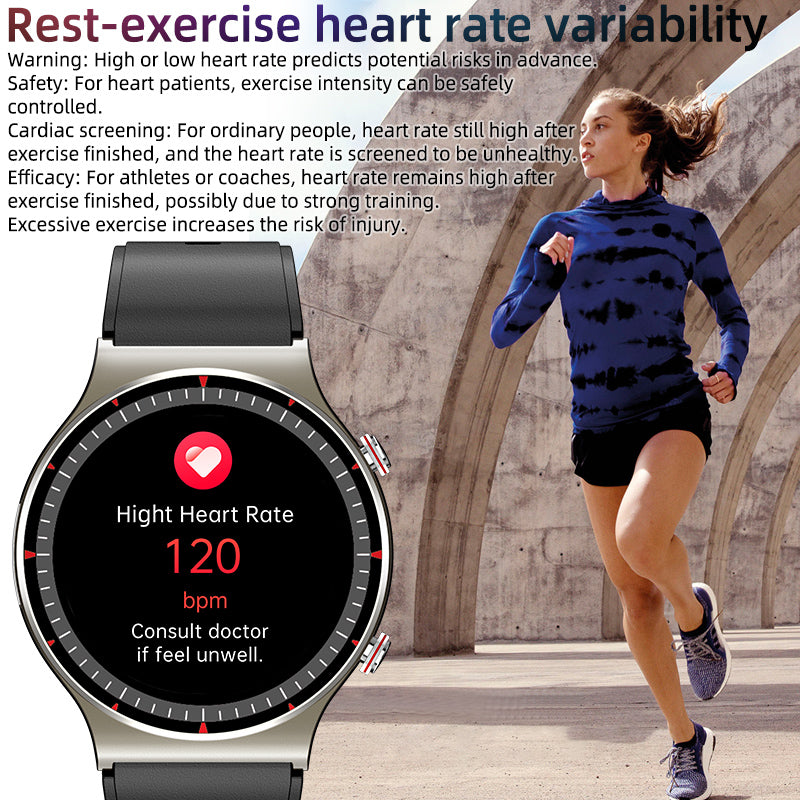 FITAOS 2023 ECG PPG Reloj Inteligente Full Touch Screen G08 Smart Watch with Blood Oxygen Body Temperature Blood Pressure Heart Rate
Innovative Electrode ECG testing
Based on intelligent pulse wave technology and Cardiac Telecom Capture Technology, through the ECG measurement principle, the heart bioelectrical signal is collected, and the ECG data can be viewed within the 30s.
Intelligent Heart Rate Monitoring
Autonomous Heart Health Management
Adopt a high-performance heart rate sensor, integrate ECG+PPG technology, automatically generate heart rate data every half an hour, intelligently identify abnormal heart rate and other situations, and provide personalized guidance!
Blood Pressure Monitoring
Intelligent pulse wave technology, 30s blood pressure measurement measurement
24-hour blood pressure health monitoring, recording blood pressure changes, understanding blood pressure status, synchronizing APP, feedback more detailed data, and always paying attention to health.
Blood Oxygen Saturation Detection
With the
newly upgraded red infrared light sensor
to measure your blood oxygen saturation
When you are working for a long time, you can measure the blood oxygen value in time to grasp your own health status.
Sleep Monitoring
From 0-7 A.M., heart rate and blood oxygen monitoring are used to analyze changes in heart load and sleep breathing rate to determine whether there is a risk of sleep apnea. Low blood oxygen will vibrate to remind the owner; This function is very practical for people with respiratory problems, apnea patients, and snorers~

Female
Record women's menstrual cycle, care for health Help you knowing your menstrual cycle,record menstrual periods, safe periods, and dangerous periods, care of women's physical health.
🚴 Multiple Sport Modes Achieve New Breakthroughs
-
Steps, distance, calories, setting goals,
10 modes of workout,
the record of activity will
help you plan exercises one step ahead.
Watch RIG records your exercise data
so that you can better understand the details of your workouts. Let's achieve new breakthroughs together!
Multichannel Optical Design, More accurate data
7-channel optical path | 6 LED light sources | 3 electrodes.
Multiple colors and wavelengths to extract different levels of skin data, more powerful new algorithm monitoring, lower power consumption and more accurate data monitoring.
Built-in GR5515 CPU, More strong processing performance
Built-in powerful GR5515 processing chipset, high-level production process and raw materials, stronger processing performance, more accurate data acquisition
Fresnel Optical Lens - More Accurate Optical Measurement Technology
Stronger light penetration
for more accurate data.
Built-in Fresnel lens
makes the scattered light parallel when the light passes through,
making it easier for the sensor to collect data information,
thus ensuring the accuracy of the measurement data.
HD Big Color Screen -

 

Clearer Data Presentation and More Comfortable Touch
Full circle High-definition touch color screen with 240*240 high-resolution high-definition color screen display, which can be slid and tap, convenient and fast, devote to a colorful life.
Please note:
1. The product is not a medical device. Message content is for reference only, and should not be used for clinical diagnosis.
2. Not applicable to users under age 18, or those diagnosed with other types of arrhythmia. Please read the instructions thoroughly.
3. This app is not a medical device. Data obtained during the use of this app is for reference only, and should not be used for medical research, diagnostic, or treatment purposes. Please read the Instructions thoroughly.
4. This product can be worn during shallow water activities, such as swimming in pools and shallow waters along the coast, but not for long periods of time in the water. It should not work in hot showers, hot springs, or saunas (steam rooms), nor during platform dives, high-pressure rinsing, or other activities that involve high water pressure, high temperatures, high levels of humidity, or fast-flowing water. It is not suitable for scuba dives, or technical dives. Rinse off the watch with fresh water after using it in ocean water. Leather and metal straps are not designed to withstand swimming or sweat. It is recommended that you wear other types of straps, in such scenarios. Water resistance is not permanent, and protection may decrease with daily wear and tear.